"HEART OF DARKNESS" BY POLINA KARPOVA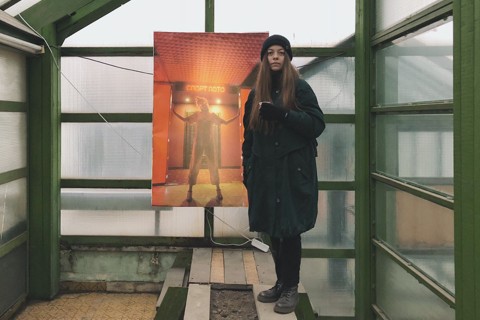 Several years in a row in the Uzhhorod hotel "Transcarpathia" there is an artistic residency "Sorry, no rooms". This time, curator invited Polina Karpova to his residency.
Polina Karpova is a photo artist, graduated from the Kharkiv Academy of Design and Fine Arts. She is a member of the creative association "Ukrainian Photographic Alternative" and National Union of Photo Artists of Ukraine. She was born in the creative family. Her father was a photographer and her mother was a tailor and clothing designer. Thus, Polina shows interest in photography and fashion.
In her work, she refers to the embodiment of the aesthetic qualities of a particular location, builds special staged solutions, selects a colour palette, contrasts and interesting perspectives, which allows harmonizing the character and architectural context. Polina describes her work as follows: "In general, my hero is a young person, often dressed in something weird, placed in a musty Soviet interior or a cityscape on the outskirts of Kharkiv. When you combine something beautiful, alive and blossoming with something vulgar, feeble and blurred, it turns out a strange harmony, and maybe someone will find in it something interesting for him."
 
The photo project, performed within the framework of the residency, is titled " Heart Of Darkness". It was Polina's first time in Uzhhorod, and she was deeply impressed by the number of neon signboards. This is how the name and concept of the exhibition occurred. This time Polina used the aesthetics of the flashy LED signs of the hotel's game rooms. In her photo series, the model is a living "ghost" of the hotel, wandering through the corridors and rooms and looking for and trapping especially desperate guests who want to easily escape from the reality.
The curator constantly offers new locations at the hotel. Now the project is presented in the "new" Glass Gallery (premises of the former brewery) at the hotel "Zakarpattia", where the exhibition of photo and media works by Polina looks organic.
Text (using a press release): Oleksandr Nikitchuk
Photo: Oleksandr Nikitchuk and Dovganych Robert
Photo of works: Polina Karpova