Exhibition "Salto mortale & Populism" in Uzhhorod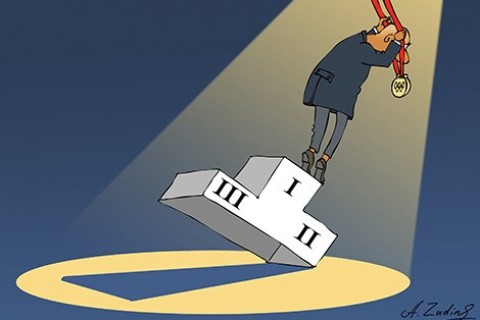 On 1 March 2019 in the Centre for Slovak Culture in Uzhhorod it was opened a unique exhibition of caricature. The exhibition presents selected works, as well as the works of the winners of the annual international caricature contest. The cultural and educational organization "Matitsa Slovenska" in Ukraine has joined the organization of the project.
The international caricature contest was founded in Slovakia eight years ago. During this time, almost 1500 authors from all over the world took part in it. The project is funded by the International Visegrad Fund. In 2018, the organizers announced the topic "Salto mortale & Populism". "The contest focuses on populism and public manipulation in favour of individual or group interests, promising quick and unrealistic solutions to problems. The aim of our project is to provide a reflection of populism through caricatures," the main organizer and curator of the exhibition, Peter Razus, from Presov Regional Development Agency (Slovakia) explained.
An authoritative jury with the participation of caricaturists from various European countries (the world-famous caricaturist, Volodymyr Kazanievskyi from Kyiv represented Ukraine in 2018) determine the best work that corresponds to a given topic. As a result, the selected works, as well as the winners' works, are presented at exhibitions in different cities. Before it comes to Ukraine, namely to Uzhhorod, the exposition has already been seen in Poland, the Czech Republic, and Hungary.
The partner of the contest in 2018 was also the Ukrainian charitable foundation "Correspondent".
The exhibition will last until the end of March 2019.
Photos and assistance in writing material provided by the cultural and educational organization "Matica Slovenska" in Ukraine.
© Art & Culture Foundation Brovdi Art