Retrospective exhibition of watercolours in Uzhhorod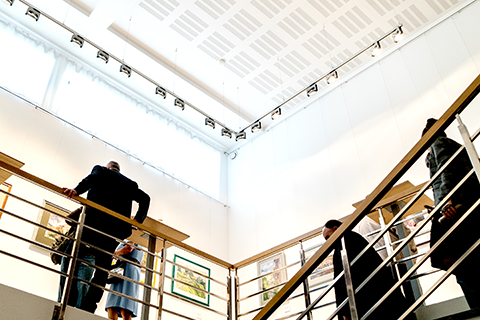 On 26 September 2017, the first regional retrospective exhibition "Watercolour" was opened in the premises of the ILKO Gallery in Uzhhorod. The organizer of the event was the People's Artist of Ukraine Vasyl Skakandii as well as Transcarpathian Organization of the National Union of Artists of Ukraine.
 Watercolour is undeservedly forgotten, but an extremely interesting technique, with not many artists being engaged in it, the organizers of the exhibition believed. To a great surprise, it turned out that Transcarpathia has something to show: the exposition includes more than 120 works of both the classics and contemporaries of the Transcarpathian school of painting.
Among the presented watercolours one can see the works of O. Lukach, Y. Kopanskyi, V. Filesh, O. Dolhosh, O. Kondratiuk, A. Landovska, O. Andialoshi, O. Hromoviy, N. Didyk-Myronchuk, M. Pyitera, E. Kontratovych, Y. Yehorova, O. Voitovych, I. Voitovych, Vladyslav Habda, M. Puhlyk-Belen, E. Levadska, O. Fedor, L. Korzh-Radko, A. Kovach, V. Vovchok, Y. Dulenko, M. Ivancho, I. Manailo, F. Seman, Y. Bedzir-Kremnytska, I. Paneiko, S. Petki, Vasyl Habda, B. Kuzma, A. Chebykin, V. Mykyta, Y. Stashko, F. Manailo, Y. Bokshai, V. Myhovych, V. Skakandii, I. Ilko, V. Kohutych, R. Pylyp, P. Feldeshi.
The Honoured Artist of Ukraine Volodymyr Mykyta also presented his works at the exhibition: "In the art school, we were taught first of all to work with watercolours. I like this technique and use it periodically. The exhibition turned out to be very good. I did not even think that so many artists work in this technique."
Landscapes prevail at the exhibition, but there are also portraits and still lifes. Stylistically, the works vary as well: from classicism to impressionism, avant-garde, etc.
There was a real full house at the exhibition: a lot of art lovers came to see the watercolours of the Transcarpathian artists. After all, most of the works are stored in private collections, so maybe one won't have a chance to see them again. Everybody noted the high quality of the presented watercolours. There was even the idea that soon the world could hear not only about the Transcarpathian school of painting but also about the Transcarpathian school of watercolour.
Anatolii Kryvolap, a well-known Ukrainian artist, did not ignore the vernissage as well. The master noted: "This exhibition shows that watercolour is alive, it develops. There are very high-quality works here. And, although there are a lot of new technologies, classical art is still on a high level."
The exhibition will last throughout the month - until October 22.
Text: Kseniia Shokina
Photo: Natalia Pavlyk