Project "3D. PUBLIC ART"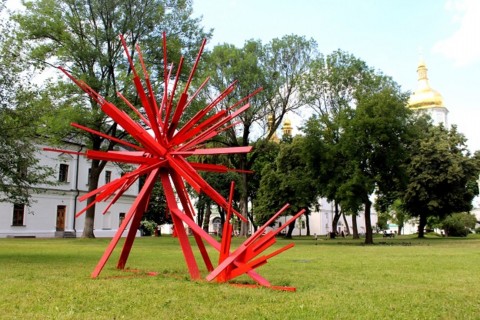 On 14 June 2018 on the territory of the National Reserve "Sofia Kyivska" it was opened a large-scale art project "3D. PUBLIC ART". It is implemented already for the second time and demonstrates the creativity of authors from different regions of Ukraine, including Transcarpathian ones.
The project was organized by the public organization "International Institute of Cultural Diplomacy" and the National Reserve "Sofia Kyivska" with the support of Serhii and Yevhen Husovskyi, the Embassy of Hungary in Ukraine, the gallery "KalytaArtClub", the Foundation Abramovych.Art, In Vino.
The main goal of the project is to show the audience the three-dimensional forms of contemporary art and take them outside the galleries and museums – into the city and the park environment, where they belong. All this will contribute to the de-communization and modernization of Ukrainian public spaces.
«3D. PUBLIC ART supports the main message of this year – the dialogue of the past and the future, as 2018 is declared the year of the European cultural heritage. The collision of new forms of art and contemporary art with the traditional perception of the national image will enable us to rethink our cultural heritage not only as something past but also as values that we create together for future generations, "the organizers say.
It is interesting, that this year's highlight of the project was the presentation of works of Transcarpathian artists – Beata Korn, Vasyl Roman, Endre Hidi and Peter Matl, whose creativity is unknown to the capital's audience.
The sculptor Peter Matl notes: "During the opening of my first exhibition in 1987, I talked about how to put art on the street. Then it was perceived ambiguously. However, as practice shows, dozens of sculptures located in Transcarpathia are popular among locals and among tourists, so our region is ready for such solutions of public spaces. And we, artists, will just do our work ".
The project will be completed on 15 September 2018, and according to its results, it will be prepared a catalogue.
Photos are provided by the organizers
© Art & Culture Foundation Brovdi Art