"Polissia & Transcarpathia" at Gnatyuk Art Center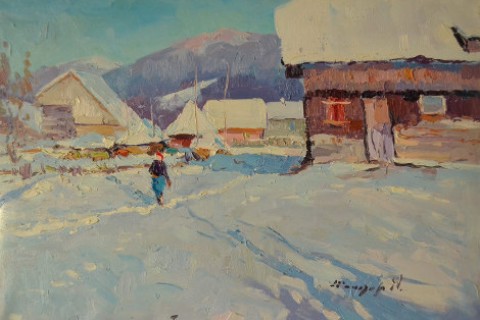 On 16 June 2018, at the Gnatyuk Art Centre, Zhytomyr, it was opened the exhibition of works by Transcarpathian artist Oleksandr Shandor. The artist presented his paintings in parallel with the works of the Zhytomyr sculptor Frants Osovskyi, therefore the exhibition is titled "Polissia & Transcarpathia".
Oleksandr Shandor's favourite genres are the landscape and still life. They are predominant here, but there are two portraits as well. Still lifes with sunflowers, lilacs, and peonies are in front of the viewer, and portraits acquainted him with Transcarpathian women in folk costumes.
The artist himself explains: "Most of all I love to portray our landscapes – my soul is Transcarpathian. I wanted to show our land to Zhytomyr, because they do not have such colours in the painting. Therefore, I responded to Oleh Hnatiuk's offer to present my art at their art centre."
Visitors of the exhibition noted the style of the writing of Oleksandr Shandor – bright colouring immediately helps to recognize the Transcarpathian artist. "I like to draw this way – colourfully, – the author says. – Here everything is picturesque and vivid: mountains and rivers play in the sun, and every scenery is a ready-made work, just take and draw. My favourite places for painting are Mizhhiria and Rakhiv regions. There are very picturesque landscapes."
It should be noted that Oleksandr Shandor likes to write live, thus he often participates in the plein airs. The artist says that he improvises in his creativity because it's not interesting to copy nature – he wanted to strengthen the colours and give them more expressiveness.
Frants Osovskyi's works are made of wood. According to the artist himself, he remained the only sculptor in Zhytomyr who works with this material. His works are interesting because the master does not invent something completely new, but complements what nature has given.
The exposition will last until about the beginning of August.
Text: Kseniia Shokina
Photos provided by Oleksandr Shandor and from open internet resources
© Art & Culture Foundation Brovdi Art