PÉTER MATL PRESENTED GRAPHIC EXHIBITION "FIVE" IN KHUST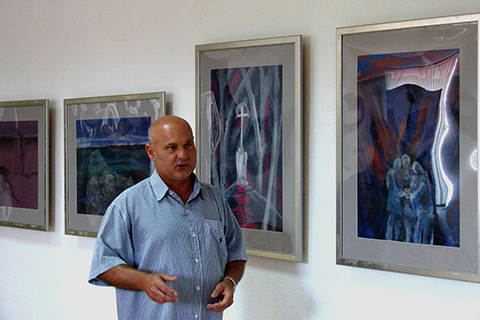 On Wednesday, June 28, 2017, an exhibition of graphic works of the famous Transcarpathian artist and sculptor Peter Matl took place in the Khust Art Gallery. The artist presented a series of works entitled "Five", which highlights the terrible history of the Stalinist repressions and Gulag concentration camps. 
In fact, the artist was inspired by a series of study of the Transcarpathian historian György Dubok, in which facts of terrible Stalinist repressions are presented. The name of the exhibition "Five"-​​the number of prisoners, who were taken from concentration camps, lined up and sent to heavy work.
Almost all the fifty works presented in the art gallery the artist created over the past years. "It was in such a way: I went to the plein air to Romania and at the time when everyone was painting the Carpathian landscapes, I was barely bursting: I wrote 8 works on Stalin's repressions per day, as I previously read about it in Dubok's historical study, -Peter recalls. -Next day I painted the same number of pictures, and so on, until the whole series appeared on paper." According to the author, it turned out that the whole series of works was created during 2015-2017, and the repressions took place during 1945-1947, so the exposition can be considered a reflection on those events. Moreover, the works are extremely close to the artist, since the events of seventy-years-ago affected his family as well.
At the exhibited graphic works there are various scenes related to one subject. Here is a pregnant woman standing above the grave, and there - civilians, who were forcibly detained from their homes. A lot of pictures have a symbolic philosophical character, depicting crosses and graves. "My works are not illustrative, they are artistic, -the author of the exhibition said. – With the help of art, I tried to honour the memory of those Ukrainians, Hungarians and representatives of other nationalities who were subjected to inhumane mistreatment in Stalin's camps, as well as those who were left to suffer at home without a father, brother or son ... This is an interactive exhibition that affects the soul, forces people to stop and think over."
The exhibition, which has already travelled over the half of Ukraine, will be in Transcarpathian region for the next two weeks. You can visit it in the Khust Art Gallery for two weeks since the opening day.
Text: Nataliia Petervari. Photo-report by Bohdana Klekner, "Golos Karpat" website. Photos of the works provided by the author.