PERSONAL JUBILEE EXHIBITION OF VASYL DUB IN MUKACHEVO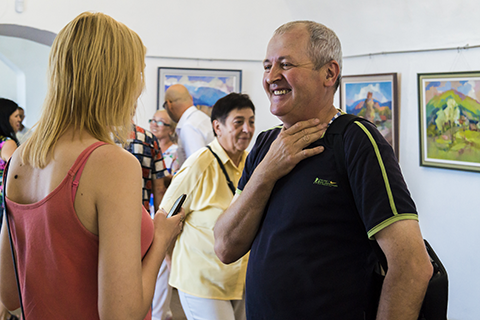 July 4, 2017 in the art gallery of the Mukachevo Historical Museum-"Palanok" castle it was opened a personal exhibition of the member of the National Union of Artists of Ukraine Vasyl Dub on the occasion of his 60th anniversary. The exhibition presents 33 works of the artist, which illustrate his long creative period.
Here are the canvases created in 2013-2014 and those that literally came out from under the brush, or rather, from the palette knife, which the artist most often prefers. It should be noted that entering Uzhhorod College of Applied Arts in the 1980s, Vasyl Dub decided to devote himself to the art wood processing and worked on it for a lot of years. He turned to painting only in 2010, and for seven years of hard work he achieved significant progress-this is noted by all who are familiar with the creativity of the author. "Looking at Vasyl's works, it is clear that he is progressing-growing in his work every now and then, taking on difficult topics, setting new tasks for the embodiment of landscape painting," the People's Artist of Ukraine Borys Kuzma commented. "He generalizes the themes, makes them transformed, stylized. The art is in his blood –it is impossible to doubt about his sincerity."
In the works of Vasyl Dub it is felt a significant influence of one of the classics of the Transcarpathian School of Painting Anton Kashshai, whose manner he tries to emulate. It is not surprising: "I am a citizen of mountains; therefore, mountain scenery prevails in my works. Stavne village, where I come from, it's a kind of "Transcarpathian Barbizon"-the coryphaei of the Transcarpathian school Gluck, Erdeli, Bokshai and Kashshai created there. When a child, I also picked up tubes from paints after them which remained in the grass, it had no chance of happening. Obviously, energy also somehow influenced me," Vasyl Dub told in the opening day of the exhibition. The artist notes that the creation of the painting depends on the mood-sometimes it is possible to complete the work in one step and sometimes it may take a month. Often after the exhibitions, he finalizes the paintings, so at the next exposition they may look different.
Vasyl Dub's canvases are rich and saturated, the game of light and colour immediately catches the eye-it was noted by all visitors of the exhibition. "My work will tell everything about me,"- with such words Vasyl Dub invites to view the exhibition, which will last for two weeks.
Test: Kseniia Shokina Phoro: Nataliia Pavlyk