PERSONAL EXHIBITION OF VASYL BOBITA IN MUKACHEVO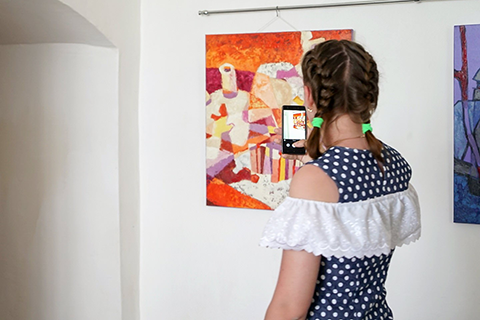 Personal exhibition of a Transcarpathian artist from Irshava Vasyl Bobita has taken place in the picture gallery of the Mukachevo Historical Museum since June 14, 2017. 35 paintings, executed in mixed technique, immediately attract the attention by the rich in colour and style diversity.
Expression, sensuality, transmitted through colour, originality of the author's vision of the world - these are the first thoughts that arise when you visit an exhibition of the artist. Thanks to the combination of elements of different styles - expressionism, cubism, abstract art - the works immediately amaze the spectator, make him stop, go deeper into the artist's intentions and try to understand what he felt when he wrote this or that landscape. And, there is no doubt that that are the landscapes, moreover - the sceneries of native Transcarpathia depicted on the canvases. There is a castle mountain, and an old hut on the edge of the village, and the nature of the native land, which the master is forever in love with, there is everything that surrounds him, but it is transmitted through the author's method and style. Although, the art critics and artists, that were present at the exhibition opening, noted that one more postulate should not be rejected: these works, despite everything, also belong to realism - to the reproduction of reality as it is seen and felt by the painter. As the artist himself noted, he was fond of leading figures of the Transcarpathian school of painting and he studied under their guidance. "I always wanted to continue their line in the work, but in a modern vision, - the master says. - At the same time, I clearly realized that I would never become the second Erdeli or Manailo, so I should look for my own way. Necessarily the one that will be close to the contemporary in spirit, in feelings, in worldview. Does it work? I cannot judge..."
Even at the first sight it is clear that the main thing in creativity for the artist is colour. The author sees too much grey in everyday life, so he rejects this colour in his work: his paintings are bright and expressive, they themselves carry on a dialogue with a spectator. At the same time, the main task, which the artist sets himself, is that emotions from contemplation and perception of his works should be positive, bright, and clean. The majority of the works that are exhibited (24) have been executed within the last year and a half. And, this means that the artist paints a lot and with inspiration, step by step looking for and testing his own path in art. The exhibition of Vasyl Bobita will last till June 29, 2017.
Text: Nataliia Petervari Photo: Nataliia Pavlyk