"SKETCHES IN VOLUME" BY RUSLAN TREMBA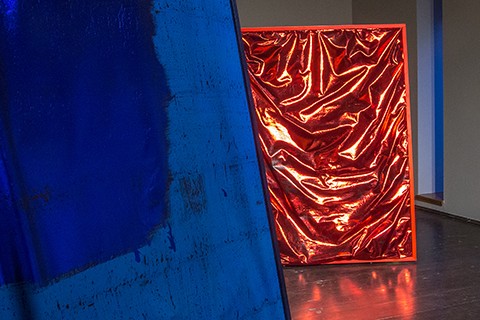 On 22 November 2017 in the Kyiv Shcherbenko Art Centre, it was opened a personal exhibition of the young Transcarpathian artist Ruslan Tremba. This time the artist presented his new project "Sketches in Volume" which he worked on during this autumn.
The series consisted of eight monochrome works which formed four diptychs. The works are set in such a way that it can be seen the letter "Л" ("L"). The second name of the project is "Autumn that changed my life", as each work symbolizes a separate day of the autumn and inner human experiences.

The works are performed in the author's technique. The folds formed on the canvas not only create volume but also generate new shades, a game of light and shadow. Dense red with purple, velvet shimmering stands out among the chosen colour of the artist.
The author himself describes his project in such a way: "Provided that my view of the world is many-sided, I do not restrain myself in choosing the style or the way of presenting. Everything depends on what I am working on: I may be inadequate, crazy, I can be calm, kitschy, but it's all me. I agree that an artist should be recognizable, but it is also great when there is a question "who is he?". Therefore, I would like to show that we, artists, can be different."
And this is true! The new idea of the artist is fundamentally different from his previous projects and is extremely life-affirming.

The exhibition will last until 28 December 2017.


Text: Liudmyla Kozlovska
Photo: Svitlana Kulchytska