PERSONAL EXHIBITION OF NAZAR HULYN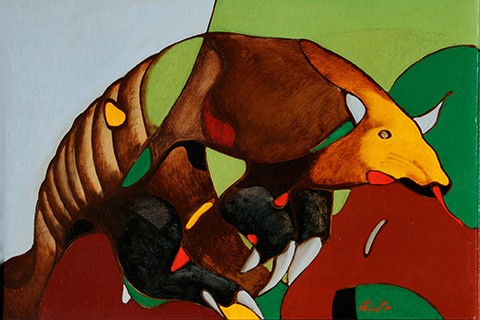 On 5 June 2018, at the Lviv gallery "Dzyga", it was opened a personal exhibition of the artist Nazar Hulyn.
To honour the memory of the artist came a lot of close friends as well as admirers of his creativity.
The artist is forever 33 years old – it's been 15 years since he left us. Therefore, Nazar's father, the famous artist Petro Hulyn, organized a retrospective exhibition.
Exposition consists of 25 oil paintings created by the artist during 10 years. The works are selected in such a way that one could trace the evolution of creativity from realism to abstraction.
"Nazar grew up in a family of artists and was surrounded by art since his childhood. He probably just could not be someone else," the artist's father Petro Hulyn says. "He was intellectually rethinking each work and convey his own message, metaphorical view and author's understanding in the real things. He went through the creative path that logically led to abstraction."
The artist's works are expressive, clearly arranged, colouristic – he worked a lot with glazing to achieve the desired colour. "He took the technique very seriously," Petro Hulyn says.
Art historians tell about the originality of Nazar Hulyn's creativity as well. In particular, a PhD in art history Orest Holubets noted in one of his publications: "His compositions are surprisingly clean, devoid of unnecessary details, well-balanced and perfect, and at the same time, deep and informative. We can see a confident style of not a young artist, but an experienced master whose active creative work was compressed in time."
Nazar Hulyn's works belong to the family, some of them are in private collections in Kyiv, Uzhhorod, Berlin, Prague, Bratislava, and some works are kept at the museums and galleries.
The exhibition will last for about three weeks.
Text: Kseniia Shokina
Photo: Henyk
© Art & Culture Foundation Brovdi Art