Personal exhibition of works by Anna-Mariia Roman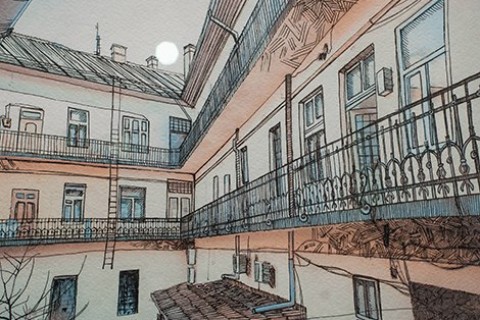 On 18 December 2018, in the Consulate General of Hungary in Uzhhorod, it was opened a personal exhibition of works by the young artist Anna-Mariia Roman.
The girl presented to the public about a dozen ceramic panels and 4 graphic works. The ceramic works of Anna-Mariia are interesting for their texture and volume, and the graphics are distinguished by elegant lines and a well-developed perspective.
In the images, it is easy to recognize the architectural motives of Lviv and Uzhhorod, where the artist lived and studied.
"I wanted to show the spirit of Europe present in our cities: we often pass by old buildings, we perceive them as ordinariness, but there is some special magic in this. We must protect and maintain our architectural and cultural monuments in order to preserve the special atmosphere of these cities," – the artist noted.
The technique of execution of the panel is author's: here harmoniously combines glass, metal, and ceramics. "We worked with ceramics in the classroom and I wanted to improve and complicate it. Thus, by means of tests and experiments, I invented my own technique: a pattern with metal wire, covered with glass and enamels on a ceramic tile," – the girl explains.
There is a combination of watercolours and a gel pen in the presented graphic works: these works are like windows in the courtyards of Uzhhorod and Lviv, where the inquisitive viewer looks in.
The exhibition will last until 14 January 2019.
Text: Kseniia Shokina
Photo: Nataliia Pavlyk
© Art & Culture Foundation Brovdi Ar