Personal exhibition of Raisa Gluck in Vinohradiv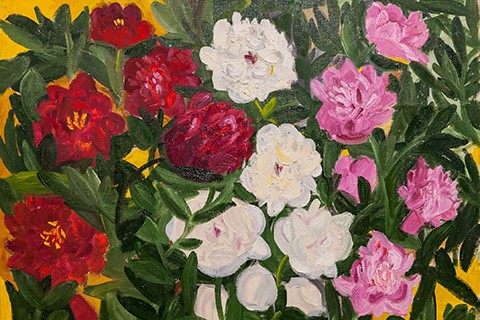 On 23 January 2018, in the exhibition hall of the "Impasto" gallery in Vinohradiv, it was opened a personal exhibition of the famous Transcarpathian artist Gabriel Gluck's wife – Raisa Gluck.
Presented at the exhibition are about forty paintings. As it was told by the founder of the Charity Fund named after Gabriel Gluck Yosyp Homoki, these are the works of the various periods of the artist's creativity, namely from 1965 to 1995.
According to Y. Homoki, Raisa Gluck did not get art education and started painting rather late – after the age of 50. The first person who encouraged her to create was her husband – Gabriel Gluck. He was her major mentor.
Still lifes predominated in the creativity of R. Gluck, thus it was the very works presented in the "Impasto" gallery. All the compositions presented at the exhibition were painted with oil – the artist exclusively used this technique for all her life. Her paintings mostly depict flowers, vegetables and fruits. Art critics note that the artist's works are full of warmth, tenderness, femininity.
As the grandson of the artist Oleksandr Aleksandrov told, this is the first exposition of Raisa Gluck, but the exhibition had been already presented for the third time – last autumn in the galleries of Tiachiv and Khust.
All works are from the private collection of G. Gluck's family.
Exhibition of Raisa Gluck in the "Impasto" gallery will last until the end of February.
Text: Denys Fazekash
Photo: Nataliia Pavlyk