PERSONAL EXHIBITION OF OREST TSIUPKO IN VYNOHRADIV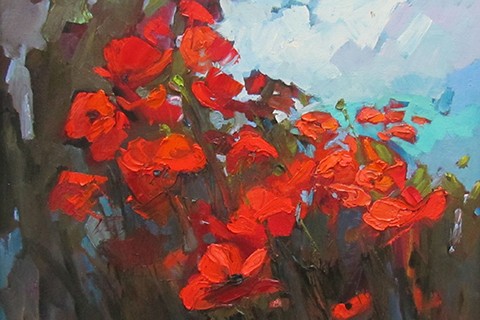 On 12 April 2018, in the exhibition hall "Impasto" which is in Transcarpathian Vynohradiv, it was held the opening of the personal exhibition of the painter Orest Tsiupko on the occasion of his 55th anniversary.
The author presented 47 paintings.
Orest Tsiupko is a member of the creative association "Artist of Verkhovyna", the organizer and leader of the international plein air "Khust-ART", director of the Khust City Art Gallery.
Presented works demonstrated the diversity of creative directions of the artist. Portrait and landscape, decorative compositions and easel painting - the multiplicity of works impresses with the scope of ideas and expression of author's feelings.  
A number of images of natural landscapes from numerous plein airs, first of all, conveying not a chronicle of wanderings, but a story about the extraordinary beauty of Transcarpathian nature, elements of urban and ancient religious architecture. The artist depicts nature in the context of the tradition of the regional school of painting, but the canvases are distinguished by moods, rhythmics, the arsenal of author's techniques of artistic expressiveness.
Orest Tiupko works in accordance with his inner vocation. An artist can afford any creative experiment, but at the same time, he remains himself. And, as the author himself states, in the process of creation he does not require any artificial effort, but simply reproduces his mental state, experience as an organic need for self-realization.
Ordinary flowers on canvases appear in an instant and fleeting condition because this is exactly what the artist is interested in. The given idea is subordinated to artistic means: colour becomes light, clear, transparent, and the line acquires grace. Canvases under the adjective improvisation and ease hide the hard work of thought, they seem to be painted "in one go".
The portraits presented at the exhibition impress with the imaginative and plastic thinking of the author. Thin psychological analysis of model creates emotional associations. One can involuntarily immerse in "conversation" with the depicted…
In general, Orest Tsiupko is not afraid to create something new in his work, to show original ideas and views on the world.
The artist Marharyta Tehze shares her impressions: "I know Orest for many years. He is a talented painter who is sociable, sensitive, passionate about art. I learn a lot from him. Taking into account the presented works, the wide range of art means of the artist, his ability to convey the colour richness of the world surprises."
An exhibition of Orest Tsiupko in gallery "Impasto" in Vynohradiv is available during the month.
Text and photo: Olha Hal
©Art & Culture Foundation Brovdi Art