PERSONAL EXHIBITION OF OLENA KONDRATIUK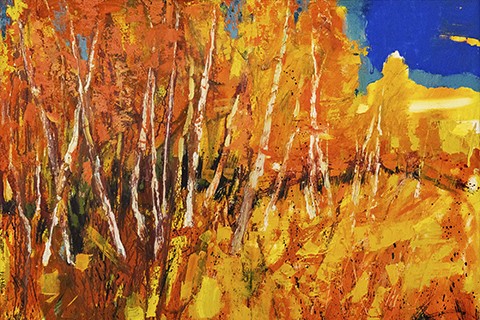 On 13 April 2018 in the exhibition space of the gallery "Uzhhorod", it was opened a personal exhibition of the Uzhhorod artist Olena Kondratiuk.
The artist presented about four dozens of oil large-scale works. Most of the works are completely new, and the rest was created over the last decade. As Olena Kondratiuk admits, this selection is a deliberate step: "There are several topics I have been working on for years. This is, in particular, the theme of feelings presented to the viewers within the framework of my exhibition Sentiment, nature of Transcarpathia about which I spoke with the viewer through the exposition "Carpathian Dreams" and others. Thus, I'd like to show the theme in progress – all these works are needed to fully disclose what I want to say."
Olena Kondratiuk depicts elements of landscapes and still lifes, successfully combined in the plot compositions. All of the paintings were created in the studio. "They are born by themselves – these are plots from my life: events, experiences," the author says. According to her, at first there is an idea that needs to be immediately fixed, and later to work on the idea development. She says: "A sketch is untouched until it becomes clear how the work should be embodied – which colour, technic..."
Spontaneous works are not for Olena. She ponders the future work in a balanced and deliberate manner with an understanding of what she wants to see as a result. "Flowers are to be quickly painted – they cannot wait, the idea "fades". I paint them "a la prima" until they are alive. And as to genre scenes – I like to think over them for the idea to ripen, form."
Uzhhorod spectators can see what Olena Kondratiuk thinks about, how she works and how her views and creativity have changed within two weeks.
Text: Kseniia Shokina
Photo: Nataliia Pavlyk
©Art & Culture Foundation Brovdi Art