Personal exhibition of Oleksandr Lypchei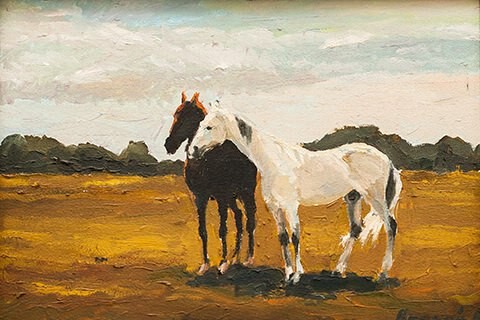 Winter in Uzhhorod ends brightly. On 22 February 2019, in the Transcarpathian Regional Art Museum named after Y. Bokshai it was presented a personal exhibition by a member of the National Union of Artists of Ukraine Oleksandr Lypchei.
The artist presented to the attention of the audience about seven dozen works. They are executed mainly by oil, but a separate hall is devoted to graphics – pastels and tempera. The viewer will see realistic landscapes of Transcarpathia, figurative, and still lifes. Most of all, the artist likes autumn and winter of Rakhiv region. He says that inspiration to him brings the surrounding beauty. Animalier art noticeably stands out: horses are the author's favourite topic since his childhood.
What is interesting, for more than 25 years, the main occupation of Oleksandr – perhaps the most difficult area of medicine is vascular surgery. He says that combining two such polar tasks is difficult, but interesting: "When you get tired of one, you find a rest in the other. I do not know what art is for me – it's definitely more than a hobby. I am constantly interested in it, studying literature, history, visiting exhibitions."
Art historian Liudmyla Biksei notes the work of Oleksandr Lypchei with lyricism and a high level of performance: "This exhibition is interesting at least by the fact that it is sustained in the spirit and traditions of Transcarpathian fine art. Here are mostly works of the landscape genre. In addition, there are lyrical, sensual graphic works, performed professionally and with high taste. The works speak about the author as a sensitive person, an observer, a patriot, a man who pays great attention to what surrounds him."
The artist admits: "For me, this exhibition is special because now my works are exhibited in the walls of the building, where canvases of world-famous artists hang in the adjacent halls. This is very significant for me!"
The exhibition will last until 4 March 2019.
Text: Kseniia Shokina
Photo: Nataliia Pavlyk
© Art & Culture Foundation Brovdi Art