"CABARET" OF LIUDMYLA KORZH-RADKO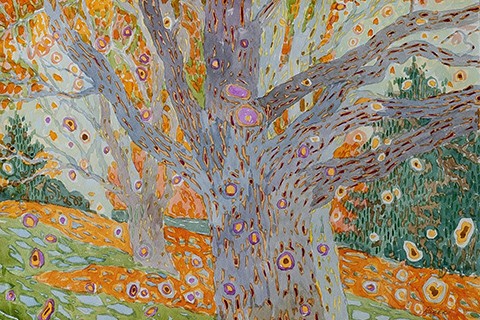 On 4 May 2018, in the Art Salon "Art-Pro", it was opened a watercolour exhibition of the Honoured Artist of Ukraine.
The exposition includes several artist's works which have not been exhibited before. Her works show the vast possibilities of watercolour, limited only by the level of an artist's talent.
Liudmyla Korzh-Radko is a famous Transcarpathian artist, laureate of the Regional Prize named after Y. Bokshai and A. Erdeli. Among her masterpieces there are monumental art, painting, collage, as well as easel and book graphics. In her work the artist uses graphics, oil, acrylic, batik, levkas. She also works in watercolour technique, and she presented exactly these works in "Art-Pro".
Very fragile and at the same time strong, elegant and erotic – such is a woman in the portraits of Liudmyla Korzh-Radko. Obviously, every work is created with love for the heroine, with deep feelings and incredible tenderness. The artist shares her own feelings and experiences in each of her images, and thanks to it, her works are alive, they talk to the viewers.
As noted by art historians, the novelty of painting vision is a great feature of Liudmyla Korzh-Radko's creativity. The artist's works differ significantly from the works of the representatives of the regional school of painting. They are remembered for a long time. The artist is characterized by the courage of creative search, the desire to reveal the author's individuality.
The world of Liudmyla's images is the concentrated expressions of poetic and philosophical concepts. The rich inner world penetrates through the drawings of her works. Numerous years of creative search in graphics and painting, the chamber philosophical nature of the artist resulted in a whole system of visual conventions. Her creative style is distinguished by elegance, linearity and decorativeness. Despite the ethnic roots of the artist, her works are deeply national, based on Ukrainian and world culture.
An art critic Oksana Havrosh writes about the work of Liudmyla Korzh-Radko the following: "Liudmylas's art is devoid of traditional formulas, academicism and time-honoured themes… Avoiding current trends, Liudmyla just creates her world where there are no reproachful questions, objective laws and scary slogans ... 
The exhibition of Liudmyla Korzh-Radko will last until 18 May 2018.
Text: Volodymyr Mishanich
Photo: Nataliia Pavlyk
© Brovdi Art Foundation