Exhibition "In Search" of Oleksandr Shandor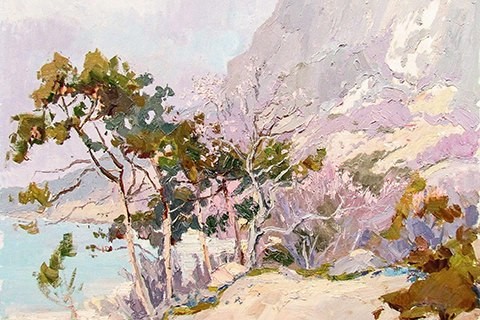 On 25 January 2019 in the exhibition hall "Impasto" in the Transcarpathian city of Vinohradiv, it was opened an exhibition of paintings by Oleksandr Shandor under the title "In Search". The author defined it as the final stage over the past decade, which was saturated with the creative search. He experimented a lot in different styles and genres, tried to be truthful and honest with himself.
The exhibition presents more than 40 works performed in recent years of plein-air and easel painting, in which the artist emphasizes the emotional attitude to nature and fascinates by the spectrum of a rich palette. In still lifes, O. Shandor creates an image not from a clear construction of objects, but from the features of lighting, random shadows, spots, and textures. The presented landscapes give an idea of how the artist is fond of native nature, close to his heart landscapes of the Carpathian Mountains and the river Tisza.
An important role in the works is played by the manner of brush strokes – free and plastic, emphasizing the shape or determining the individual details. Then the picturesque surface breathes and pulsates with paints.
"Everyone can leave the country, but the artists will remain because they are held by a unique native nature, which encourages creativity," Oleksandr Shandor says.
Valerii Dordiak, the head of the Creative Union of Artists and Folk Craftsmen "Artist of Verkhovyna" (Khust), during the exhibition, note: "Oleksandr Shandor is an exceptionally hard-working person. For the last period, I see significant growth both in mastery and in understanding what the artist depicts. "
Perhaps, everyone who visited the exhibition felt in a new way the beauty and diversity of his or her native land.
The exhibition of Oleksandr Shandor in Vynohradiv Gallery "Impasto" will last until 22 February 2019.
Text and photo: Olha Hal
© Art & Culture Foundation Brovdi Art