"One Moment" by Yuliia Yehorova-Rohova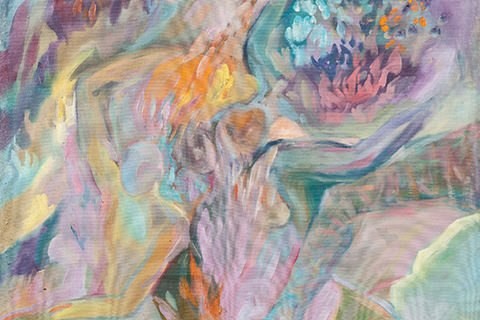 On 1 March 2019 in the Art Gallery of Desnianskyi district in Kyiv, it was opened a personal exhibition of Transcarpathian artist Yuliia Yehorova-Rohova. The exposition is retrospective, it presents about sixty works by the artist, made over at least the last ten years.
Yuliia Yehorova-Rohova is a Transcarpathian artist who creates not only picturesque canvases but also actively engages in ceramics, potters, works in the genre of book graphics. Her solo exhibition, presented now in the capital of Ukraine, under the title "One Moment". The artist chose the following words as an epigraph to it: "To live in time as if out of time – this is the state when you hear, see, feel ... Moment of life, the uniqueness of moment, and the breath of infinity..."
Why "One Moment"? Yuliia explains it as follows: "One moment – as a manifestation, impulse, invisible history, like a wave, a particle of one second… One moment is not just words or thoughts, transferred to the canvas with the help of graphics means – it's rather a kind of call to appreciate, to feel that moment when you can change something in your life, it's a request to listen to the moments. "
The exhibition frankly impressed all those present at the opening, because it is not just arranged in a specific order of works, the artist struck with a creative approach and a fresh, original vision. Thus, the overwhelming majority of the exposition is picturesque canvases, but they are arranged in such a way that different series are interlaced, combined with certain nuances, techniques, colour, some episodes or strokes – and thus create not chaotic, as it seemed at first glance, but a well thought out picture of life, a picture that consists of moments.
The highlight of the opening of the exhibition in Kyiv was a kind of performance, arranged by Yuliia. Under the solo7string live music, the artist shot with "brushes-arrows" on the black canvas, and when touched, bright prints were formed. "This combination of music and action symbolized creation, the birth of space, a new space, a new life. Because from each of my shots, on a black canvas it was as if a planet was born. These were shots of beauty, as I finally called them. Moreover, in my opinion, this is such an attempt to make a new kind of contemporary painting – I called it "poliuvantyzm". What does it mean? I interpret it this way: canvas hunting, safe or ethical hunting. And it is based on straightness, openness in everything, in actions, thoughts, statements".
Ceramic works presented at the exhibition, are the only whole with the paintings and performance. For example, forms with imprints of a shell, fossilized remnants, are organically combined with cosmic compositions. In the same way, these types of images are intertwined with the installations installed here.
About the exhibition and the author herself, the art historian Andrii Budkevych wrote in All-Ukrainian cultural history weekly paper "Slovo Posvity": "What is the style of writing inherent in Uzhhorod's artist? She herself said: "I have spontaneous painting, and ceramics the same..." I dared to call this direction as abstract impressionism". Ppictures filled with movement, good energy, emotions, up to the thin movements of the soul… Sophisticated poetry is inherent in the artist's creativity, since Yuliia is a benevolent person, often smiling, open to the world and all new, interesting, creative." Finally, the art scientist is very apt to add: "... the content of the paintings (of Yuliia. - Aut.) is so consonant with the lines of Transcarpathian poet Khrystyna Keryt: "Let's stay a bit on the edge of a fairy tale, it's so wonderful to believe in it".
The exhibition "One Moment" by Yuliia Yehorova-Rohova will last in Kyiv until 20 March 2019.
The text was prepared with the assistance of Yuliia Yehorova-Rohova
Photo: Nataliia Pavlyk and Yuliia Yehorova-Rohova
© Art & Culture Foundation Brovdi Art