"One space" for Mukachevo artists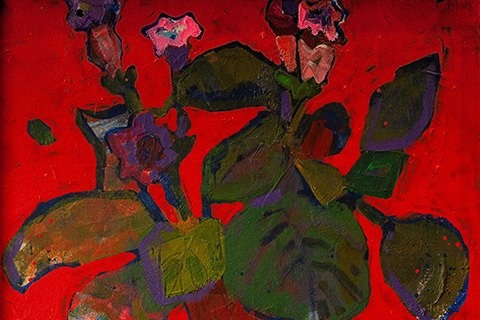 It will soon be three years, as in the second largest city in the Transcarpathian region, it was closed an art gallery.
Mukachevo art gallery, founded in 1995, was specially re-planned for the exhibition space and existed until 2016. The gallery was located in the heart of the city on Fedorov Square. Artists were offered "new" premises in exchange, and in fact a substitution: the expositions and the exhibition platform were moved to the Palanok castle, which, according to many Mukachevo artists, is not an alternative to the former.
Several years of hardships, and today the only platform for young artists of Mukachevo, in which you can show your creativity and communicate in a relaxed atmosphere, is the establishment of "One space". "One Space", if in Ukrainian, opens the fourth exhibition, the previous three were personal, and this time it is a joint one. The young generation of artists of Mukachevo, namely Serhii Lakatosh, Nataliia Moskalova-Lakatosh, Kateryna Shelevytska, Maksym Hospodynchyk, Kateryna Yalova, Petro Kerechanyn and invited young artists from other cities Oleksii Fedor, Yana Mahei, Serhii Kondratiuk, and Volodymyr Mykhailov are represented by their paintings at the exhibition "Synthesis", which was opened on January 15, 2019.
'The exhibition "Synthesis" united young artists, different in style, technique, and genre, under one roof, whose name is Art. Such events provide an opportunity for communication, exchange of experience and joint planning of future artistic events,' the curator of the exhibition, artist Serhii Lakatosh said.
Special guest at the opening of the exhibition is the artist, a Ph.D. in History of Arts Attila Kopryva, who organized a dialogue on the theme "Art, Time and Relevance".
'The discussion was very lively and interesting, we raised such questions as "What is relevant and contemporary art?", "What does it mean to be an artist?", "Is academic education in today's coordinate system required?", "Management in art and who acts today as an agent?" I can also add that I am impressed by the fact that the paintings in the exposition are written in different styles, as well as the fact that the youth searches for themselves, does not afraid to speak, does not repeat and does not copy the older generation of Transcarpathian artists,' – Attila Kopryva commented.
The exhibition will last until 11 February 2019.
Text: Oleksandr Nikitchuk
Photo: Nataliia Pavlyk
© Art & Culture Foundation Brovdi Art