Exhibition "New Generation" of Olha Kashshai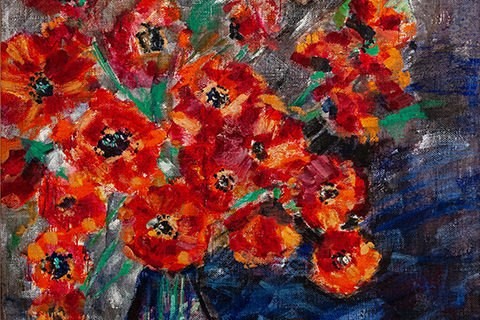 On 26 June 2018 in the premises of the Honorary Consulate of the Czech Republic in Uzhhorod, it was held the opening of the personal exhibition of Olha Kashshai under the title "New Generation".
According to the artist, the exposition does not have a specific subject. As she noted, the exhibition is rather informative in nature – it introduces visitors to the new stage of the artist's creativity.
"These are the new works that I created this year," the artist admitted. – All of them are made on one breath but after serious training and self-development. The basic idea is a new generation that evolves from classics to contemporary times. With this exhibition, I show how I change, what new images appear in my imagination, but I do not forget my origins. In a word, this is more modern, progressive and emotional level of my creativity."
It should be noted that Olha Kashshai is the granddaughter of the classic of Transcarpathian school of painting Anton Kashshai. She has been taking part in exhibitions of various levels since 2010. During this time the artist managed to hold several personal exhibitions, in December 2017, she became one of the winners in the Second All-Ukrainian Exhibition of Visual Arts at the National Academy of Arts of Ukraine. Last month, in Mukacheve Castle "Palanok" it was presented her joint exhibition with her grandfather "Infinity of Evolution."
According to Ms Olha, Anton Kashshai has a great influence on her creativity, including the exhibition "New Generation". "Every day I draw something new and study his creativity and biography in detail," the author of the exhibition admitted. – Recently I was inspired by his works of 1970-80s. Now, the greatest admiration is caused by his "Viaducts" and a series of works "Norway".
Olha Kashshai notes that the works presented in the "New Generation" exposition differ from the previous ones with a complex composition, new colour solutions and the correlation of forms. "For example, still lifes have become more imaginative, and landscapes have new ideas and reflections. I experienced a lot of emotions during my last travels and I wanted to share them," the artist explains.
The exhibition will last until 5 July 2018.
Text: Denys Fazekash
Photo: Nataliia Pavlyk
© Art & Culture Foundation Brovdi Art