"Nocturne On Three Easels" of Atilla Kopryva, Géza Györke, and Oleksandr Shandor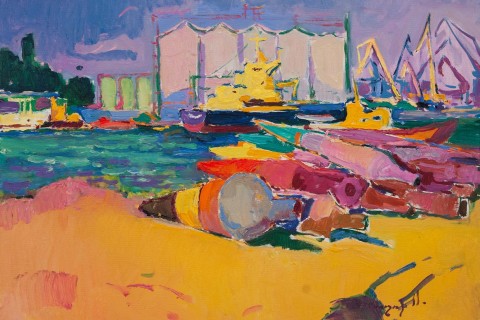 Again, the Transcarpathian Museum of Folk Architecture and Life opened the doors for art lovers. On 23 July 2019, a joint project with the Charity Foundation "Art Commonwealth "Today" presents the audience with the second project of creative collaboration – an exhibition of Transcarpathian artists of Hungarian origin.
"Nocturne on three easels" – a chamber exposition of 22 paintings inspired by the poetic mood of the night. It is dreamy, melancholy and at times pushing for reflection.
Three artists – three easels, three visions, and three styles. On the canvases of Atilla Kopryva, a mysterious towards evening filled with a spilled twilight calm and sweet tiredness from the day spent. The works of Oleksandr Shandor with their rich palette play on the contrast. Each of the nine paintings presented by the artist is a sensation, a bright remembrance, and a holistic emotional impression. The works of the young talented artist Géza Györke are another way to transfer their love for the family, the land where they were born.
In general, the genre variety is waiting for art lovers. The exposition presents landscapes, portraits, still lifes, historical, and philosophical plot lines.
Géza Györke, who was present on the opening day, shared that the nine works he presents are a small retrospective of the last decade. In some works, the school of the famous artist Liubomyr Medvid is felt. The author himself showed uncommon creative abilities from his childhood, which was warmly recalled at the opening of the exhibition by Volodymyr Mykyta, People's Artist of Ukraine. And now Géza Györke himself teaches at the Lviv Academy of Arts.
The head of the Department of Fine Arts and Decorative and Applied Arts of the Transcarpathian Academy of Arts, art director Atilla Kopryva also successfully combines his creative activity with the pedagogical. In 2007, the artist became a member of the Hungarian Academy of Sciences and, together with like-minded people, founded the Society of Carpathian Culture and Arts in Nyiregyhaza (Hungary).
At the opening of the exhibition, Consul General of the Consulate of Hungary in Uzhhorod Mariia Berkets thanked for the organized art event and assured of further support for creative projects by a diplomatic institution.
The exhibition will last until 5 August 2019.
Text: Liudmyla Kozlovska
Photo: Nataliia Pavlyk
© Art & Culture Foundation Brovdi Art