STILL LIFES BY ROMAN PYLYP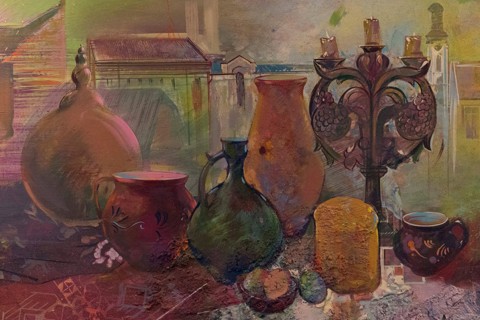 On 1 December 2017, in Uzhhorod art café "VOTO" it was opened an exhibition of the artist, laureate of the Regional Prize named after Y. Bokshai and A. Erdeli, a member of the Youth Association of the Transcarpathian Organization of the National Union of Artists of Ukraine Roman Pylyp.
The exposition under the title "Still life" presents more than a dozen works.
Roman Pylyp, first of all, is a monumental artist. Nevertheless, he has beautiful works of easel painting, fond of still lifes, genre scenes, and cityscapes.
Presented works are a series of unusual still lifes, which the author has been performing since 2004. Roman Pylyp most often uses oil and tempera but admits that he likes to work in series as thus it is quite often possible to expressively convey the idea. "I like to combine work with a certain theme. Now, this is still life. But in this series, still lifes are united not only thematically –some objects flow from one work to another", the artist adds.
Thus, in particular, the artist often depicts things peculiar to the life of the Transcarpathians. The works are also special by the Uzhhorod landscape in the background. According to Roman Pylyp, he was intended to portray the life of a Transcarpathian village against the background of the city. "I am playing with the scale," the artist says. I like to portray large jugs, other antique things and small-sized urban architecture on their background."
The artist comes up with the idea for a work very quickly and works impulsively: "... I paint, and then I think of what has been done" the author says. It happens that one work gives a push for the next one. In such a way some things flow from one work to another."
The exhibition will last during the next few weeks.
Text: Kseniia Shokina
Photo: Robert Dovganych