Exhibition "Inspired By A Doll"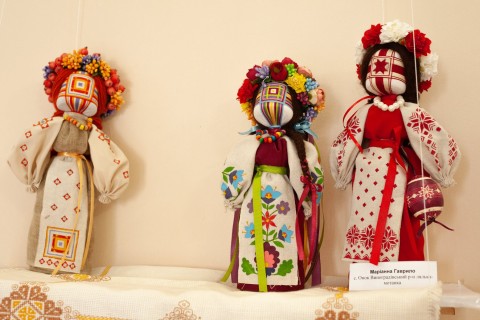 On 22 August 2019, in the Transcarpathian Museum of Folk Architecture and Life it was opened another exposition of works of decorative and applied art, which will certainly interest kids.
Seven craftswomen from Transcarpathia – Marianna Havrylo, Liudmyla Hubal, Mariia Kupar, Hanna Dykun, Olesia Rybalko, Mari Savelieva, Anzhela Prymich-Chonka, as well as the artist from Cherkasy region Valentyna Miroshnyk, inspired by the art of creating dolls, represent their works.
In total, 61 dolls are presented at the exhibition both from the author's collections and from the museum funds. Among them are amulet motankas, sacred dolls, author's and decorative, for example, pillow dolls, angel dolls and dolls with bags for spices. Amazed dolls made of corn leaves, probably our great-grandmothers played just like that.
The organizer of the exhibition, the head of the Transcarpathian Cell of Masters of Folk Art of Ukraine Liudmyla Hubal – the author of dolls, whose work is also widely represented in the exposition, said that in the contemporary world the doll not only plays the role of purely entertainment, toys, in fact, it has a wider range of applications, because with the help of dolls you can learn about the region where it was created. The doll contains elements of folk culture and local traditions that are embodied in dress, hairstyle, and jewellery. Author's doll even conveys our demeanour, revealing positive energy.
And indeed: in each of the exhibits with the help of a luxurious outfit, a unique image is created. The viewer can long view the elements of clothing, generously decorated with embroidery, lace, and weaving. In each doll, a piece of the artist's soul is felt.
Liudmyla Hubal confirms our observations: "In general, the doll is positively charged, because it is not stamped, but handmade. In the process of creating a doll, the artist with love, warmth and care touches every detail, embroidering, painting or knitting threads. Someone is sceptical of amulet dolls: what could be special, a simple piece of fabric?... But not only contemplation is important here: when you take a motanka doll to your hands, magical things happen – at the level of tactile sensations, positive energy is transmitted and the doll-protector attracts it. And if someone is scared away by the cross, then it is worth delving into its meaning in order to achieve a better understanding of this symbol. In addition to the solar sign that attracts solar energy from four corners of the world, the cross is also a symbol of Man, and in another interpretation, it means the intersection of life paths where everyone has to choose which way to go. Crossroads are common in folk tales. In fact, the doll inspires positive and such philosophical reflections."
The exhibition will last within two weeks.
Text: Liudmyla Kozlovska
Photo: Nataliia Pavlyk
© Art & Culture Foundation Brovdi Art