Author's embroidery by Nataliia Furlietova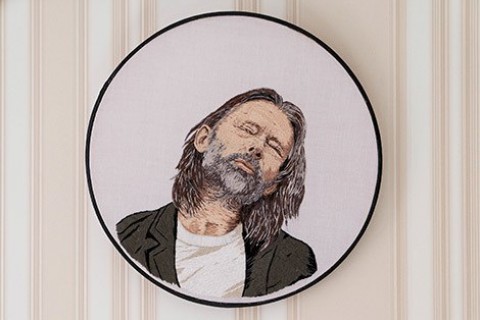 On 5 September 2018, at Uzhhorod gallery "Diptych", it was opened an exhibition of works by Nataliia Furlietova. The embroiderer presented to the audience her 17 works performed over the last year and a half.
Nataliia Furlietova was born in Russia. An economist by training. Over the past 10 years, she has lived and worked with her husband in Uzhhorod, dealing with joint business. She decided to do embroidery spontaneously, although these are actually the first works of the artist, they are all extremely original and unique in colour and content.
Nataliia's first work is a portrait of the famous artist Vincent van Gogh. "Once I felt like to take a reproduction and to present it in some unusual form," the artist recalls the moment when she got the urge to do creative work. "I chose embroidery, it seemed to me that I could transfer the texture of paints and strokes with help of thread. Thus, I got into it ..."
The most interesting is that the first work was easy, although she had to work on it for about 40 hours. She was working in one breath. She didn't have to change anything or unravel the thread. "In general, the whole process of embroidery is intuitive," Nataliia says. "When you do not plan anything in advance, then you do not make mistakes, because you just do not know what result should be. That is why everything goes without any special changes. I have not redone anything yet so far."
As for themes, the artist says that she chooses them spontaneously. When there is a plan or idea, she gets an impulse and takes another piece of canvas. "In general, this happens continuously. Every work is a new experiment, a new vision for me, a new movement. I do not plan anything at all, everything turns out spontaneously, so it's obvious that it looks so artistic," the artist says.
This is the first exhibition by Nataliia Furlietova. She does not know what will be the feedback, but she hopes it will be positive.
You can see the exhibition "The Faces" by Nataliia Furlietova at the gallery "Diptych" within a month.
Text: Nataliia Petervari
Photo: Robert Dovganych
© Art & Culture Foundation Brovdi Art