"MUSEUM COLLECTION" - PERSONAL EXHIBITION OF ANATOLII KRYVOLAP IN UZHHROD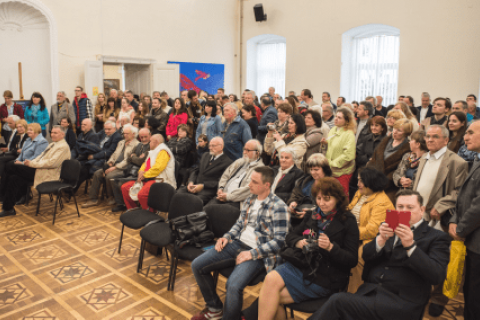 Personal exhibition of one of the famous contemporary Ukrainian artists Anatolii Kryvolap on May 12, 2017 was opened in Transcarpathian Regional Art Museum named after Y. Bokshai. 
The exposition under the name "Museum collection" consists of almost three dozen works and has been performed by the master in recent years. Almost for a month - until June 11, 2017 - connoisseurs of contemporary art will be able to visit the exhibition and then it will go to Dnipro.
"All that I could, I had told," - with such words the author himself opened the exhibition. According to him, the exposition, which has already visited Kyiv and Lviv, presents works from many private collections (the author expressed his sincere gratitude to those who agreed to provide works for the exhibitions), as well as paintings that have been written recently, including in Transcarpathia. Here are landscapes and works from the series "Structures" (2009), "Ukrainian motive", "Naked" (2005-2009), "Horses" ("Horse" (2008), "Horse. In purple" (2017), "Horse. Reflex" (2017). A lot of time in recent years AnatoliiKryvolap spends in Transcarpathia and it is obvious that this land could not but affect his creativity ("View for Sil village (2017). As a result, the mountain views, landscapes, made in that unique author's manner, and, accordingly, simply capture the viewer, make him stop, take a fresh look at what surrounds him. Variety, a combination of colours and shades keep attention; each time it sounds new and new intonations.
The exposition is chosen in such a way as to present the artist's creativity as much as possible.
"It seems that my whole creative path is shown - from A to Z practically," - the author said. – Mixed technique - oil, acrylic, enamel - in a word, everything that has a colour, I used, depending on how I saw the solution of the motive with which I work." Several hundred visitors, who came to the opening of the exhibition, noted its uniqueness. The weighty and actuality of the exposition were almost aptly told by the author's close friend, his colleague Vladyslav Habda: "Looking at this exhibition, I am first glad for Uzhhorod youth, which hesitates: whether to draw to have bread to eat, or to be like the impressionists to the end of the life. When such an exhibition takes place, there is an impulse for the youth."
With the works of A. Kryvolap is opened a series of exhibitions of contemporary Ukrainian artists in Uzhhorod. Soon residents and visitors of the city will be able to attend the exposition of the artists Oleksandr Babak and Tiberiy Szilvashi.
Text: Nataliia Petervari
Photo: Robert Dovhanych.