MIKHAILO DEYAK PRESENTED EXIBITION CREATION IN UZHHOROD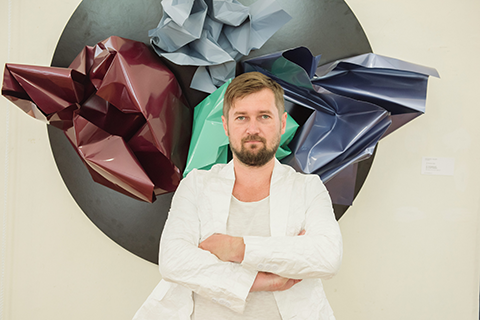 The Transcarpathian Regional Art Museum named after Yosyp Bokshai together with the Voloshyn Gallery (Kyiv) on June 29, 2017 presented a solo exhibition of the young Ukrainian artist, a native of Transcarpathia, Mikhailo Deyak. Exposition Creation is a kind of cut of the artist's creativity, a definite result of the stage of transformation of the artist's creativity.
Mikhailo Deyak was born in Transcarpathian village Zolotarovo. In 1999-2003 he studied at the Uzhhorod College of Arts named after A. Erdeli under the guidance of the People's Artist of Ukraine Volodymyr Mykyta. Therefore, he continued his education at the National Academy of Fine Arts and Architecture, in particular in the studio of V. Zabashta – "…a single colour studio in the academy" as the author himself says. After 13 years of study and searching for an individual creative path, the artist works on his own projects, he is actively exhibited, receives recognition in the creative circles of Ukraine and the world.
In Uzhhorod, the young artist presented 24 works, including dynamic paintings on canvas, landscapes on glass from the Space series, as well as metal bas-reliefs and sculptures from the Genesis cycle. "There was no goal to focus on any of the projects, I'd rather like to show in Transcarpathia the different series, I work on," - the author said.
In general, the exhibition presents the works performed during the last 2-3 years and, as co-founder of Voloshyn Gallery Max Voloshyn noted, some of them have not yet come to the attention of a wide audience. As noted in the annotation to the exhibition, "... in these works, it is easy to see how the expression peculiar to Deyak in oil painting was found in experiments with the shape and plane, transformed into a new plastic style."
Mikhailo says that he does not pursue themes and motives, he creates what falls on his soul: "... it's more of a philosophical, associative thing that drives a person to some distance and leaves there," -the artist says. As to the definition of a certain style, to which the work of the young artist could be attributed, he himself says: "Now there are so many styles, and it's difficult to decide ... Therefore, let the art critics determine my style, I am engaged in creativity."
The opening of the exhibition was attended by the numerous teachers of Mikhailo Deyak, in particular, People's Artist of Ukraine Volodymyr Mykyta. Another mentor of the exhibition author, an artist Nadiia Didyk, noted: "I know Mikhailo as a talented student, I taught him the basics of composition-this is exactly what we see right now. I like it. You know, people want something new in the third millennium ..."
Exhibition of Mikhailo Deyak will last in the Transcarpathian Regional Art Museum named after Y. Bokshai until July 15, 2017.
Text: Nataliia Petervari Photo: Robert Dovhanych