"LIfe goes on" by Pavlo Marinets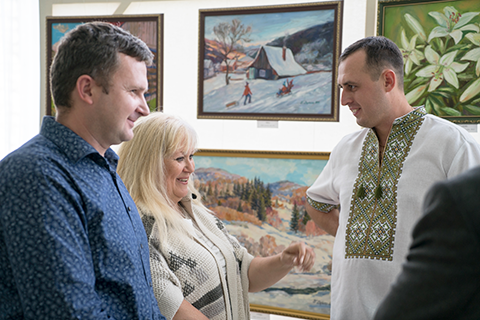 On 14 September 2017, at the Transcarpathian Museum of Folk Architecture and Life it was opened a debut solo exhibition of the young artist from Rakhiv region Pavlo Marinets – "Life goes on".
 In his native Kostylivka village, the young artist has long been known and loved – he has re-drawn relatives and almost all his neighbours. It is interesting that the first works of Pavlo were icons. "In 2012, I took the priest's blessing and painted the first two icons. Then I began to work on iconography. And now, I have even joined to the painting of the temple in Roztoky village of Rakhiv region," the artist says.
In total, the exhibition has about fifty paintings, which the author has created over the past six years. There are samples of oil painting, watercolours, pastels and even mosaic. Mostly, Pavlo Marintes likes portraits, which occupy a significant part of the exposition. "I painted people who surround me – I see their beauty, character and I want to convey it in my work. Often, I create portraits on the plein airs, where I depict the Hutsuls of Transcarpathia and Romania in the ethnic style."
Among the works presented at the exhibition, there are also special ones – portraits of two Ukrainian women-winners of Eurovision: Ruslana and Jamala. Pavlo says that he painted them before the contest and thus predicted victory for them: "It happens somehow by itself. One just should believe and paint with the good thoughts. Jamala's creativity impresses me very much. I painted her even before she was selected for the contest. I just really wanted her to represent Ukraine at Eurovision."
"However, it's just impossible not to paint landscapes and still lifes, if you live in Rakhiv," the artist says about works in other genres. He paints everyday life, the life of the Ukrainian and Romanian Hutsulshchyna.
The title of the exhibition was prompted by Lina Kostenko's poem "Life goes on and everything without corrections": "I wanted to say that every picture, every portrait is a separate life and it will be the way you made it", Pavlo Marinets explains.
An art critic Mykhailo Belen at the opening of the exhibition noted the mastery of the young artist: "Every artist's creative process is slow. Pavlo Marinets seeks himself in various genres, creates himself, works hard. He certainly has talent and there is always something to be learned.
The exhibition of Pavlo Marinets at the Transcarpathian Museum of Folk Architecture and Life will last until 1 October 2017.
Text: Kseniia Shokina
Photo: Nataliia Pavlyk