Iryna Mezeria presented her works in Uzhhorod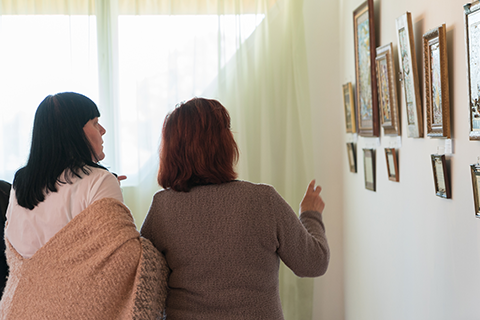 On 20 September 2017 in the premises of the Transcarpathian Museum of Folk Architecture and Life, it was opened a solo exhibition of works by the artist from Luhansk Iryna Mezeria.
Assistance in the organization was provided by the management of culture, nationality and religion of the Luhansk Regional State Administration, Luhansk Regional Centre of Folk Art and Department of Culture of the Transcarpathian Regional State Administration.
Iryna has been painting since her childhood – she used to prefer drawing paper and pencils. She's started working with glass (she is still working with it) since 2004 and back then she became engaged in art. No one taught the woman to paint professionally, she developed her own technique the way she felt. At the opening of the exhibition, critics noted that the artist's approach was interesting, individual, from the distance it even seemed that the work was embroidered, and the decoration, at first glance, resembled precious stones.
Famous Transcarpathian artist Emma Levadska is fascinated with paintings: "She works intuitively and, as a result, we can see original works. She invented her own technique and understands structure, shape, colour on the subconscious level. I think it's good that Iryna Mezeria hasn't learned from anyone – she creates the way she feels and it turns out very well. "
The artist is for the first time in the Western Ukraine – before she had her exhibitions in her native Luhansk region. "Maybe everything would have remained so, but the war ... The war showed me that Ukrainians did not really know each other: people from the East do not know much about those who live in the West and vice versa. I want to go across the whole of Ukraine, to show how people live in our region, what culture and traditions they have. "
All the presented works are executed on glass – there are different genres: a lot of portraits, landscapes, and still lifes. There are also samples of sacred art, but she does not create icons. "I do not paint icons – I write paintings on a sacred topic, although I have the blessing of a priest to create icons. This work calms me down, relaxes and delivers a special pleasure." There are paintings based on the works of favourite artists, as well as works executed in oriental style, samples of medieval plots.
The artist brought 47 works to Uzhhorod–one she had to return to the occupied Luhansk to take them to the peaceful territory - to Irpin, where she now lives with her family.
She does not paint the war: "It seems to me that he who went through this horror would not portray it. It's too close, it's too painful, it must be perceived. Now it's too hard to think about it. "
The majority of paintings have small prosaic or poetic essays – the author's own thoughts, which are like a secret key for better understanding.
To see the pictures of Iryna Mezeria in the premises of the Transcarpathian Museum of Folk Architecture and Life one can until 2 October 2017.
Text: Kseniia Shokina
Photo: Nataliia Pavlyk