EXHIBITION OF KSENIIA SAPUNKOVA AT "DIPTYCH" GALLERY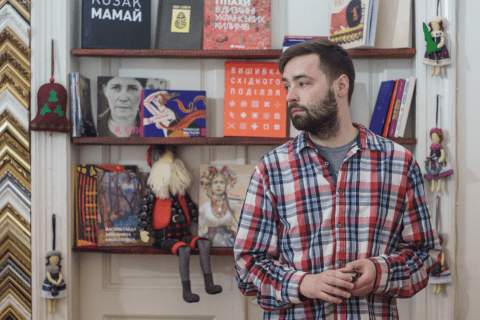 On April 8, at Uzhhorod art salon "Diptych" there was an interesting introduction of the works of the former Lviv resident and now Canadian Kseniia Sapunkova.
The sound and semantic alliteration of the poetic title of the exhibition "Flow ...  Current ... What I ..." had to adjust to the corresponding in-depth perception of works performed primarily with watercolour. Small formats have a graphic sound, the composition is built in tone-restrained palette. Some of the works are the illustrations of poetic and other works, although in general, all works are created in a certain illustrative style. The animated work of the author was also presented on the laptop screen. The exhibition was opened by Lviv poet Andrii Hretskyi, who repeatedly visited Uzhhorod as a participant of the art festival "March cats". The youth audience of the salon was interested in Andrii's poetry. He read his poems from a single advance copy of his collection, published in Canada and illustrated by Sapunkova.
Kseniia studied sculpture at Lviv Art College named after I. Trush. In 2008, she continued her study at Sheridan Art College, Toronto. Now, she is engaged in interpretive illustrations and iconography. She works in multimedia and traditional techniques. Since 2008, Kseniia has been an assistant iconographer, curator of photo and video content for social channels and web site of the Byzantine Iconography Studio. Providing of technical support and implementation of projects for placing icons in churches. In 2016 - the ideological founder and creative director of the start-up "MRC Style".
Works:
2008-2015 Valentino Icon Studio (video, logo, business card, variety of image modifications for the purpose of creating mural)
2010 Illustrations to the book by Marta Teresita "Portazo"
2014 Author's book "Look into me now"
2014 Short-moushan illustration "The Mountain Vanity"
2015 Illustrations to the book of Andrii Hretskyi "Months of talks"
EXHIBITION / AWARDS
2011 Ben Shaw Media Scholarship, Canada
2012 Barsky gallery Hoboken, New Jersey, the USA
2012 Personal exhibition Sheridan showcase, Toronto, Canada 2015 "LABYRINTH" Art association "Dzyga", Lviv, Ukraine
2013 Student group exhibition, the organizer Jill Dallas Ocqueville, Canada 2015 "LOOK INTO ME NOW" presentation of the book, Ukraine
2014 Grad show exhibit @Sudburry 99, Toronto, Canada
2015 "PORTRAITS OF HEROES" War History Museum, Pushinoy, Russia
2015 "ENCHANTED REVERIES OF A WHIMSICAL MIND" Personal Art Show Book Cafe and 2015 Things, Niumarekt, Canada
2015 "OUT OF TIME" personal exhibition in Hibiscus cafe, Toronto, Kensington, Canada