"ROOTS AND CROWN" – EXHIBITION OF TRANSCARPATHIAN ARTISTS IN CHERNIVTSI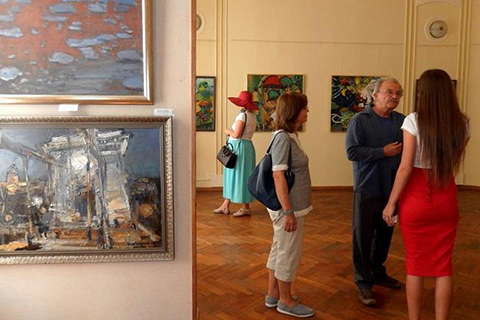 The other day in Chernivtsi it was opened an exhibition of modern Transcarpathian art "Roots and Crown" with the support of the Transcarpathian Regional Art Museum named after Y. Bokshai.
The exposition originated as a project of the Ministry of Foreign Affairs of Hungary, thus travelled to numerous regions of this European state. Now it travels across Ukraine to present rich and bright Transcarpathian School of Painting.
28 Transcarpathian authors, 60 works – all generations, all creative unions, all directions and dynamics of the development of the Transcarpathian art are now represented in Chernivtsi. Thanks to the exposition, the citizens of Chernivtsi and guests of the region can get acquainted with the richness of the styles and directions of the Carpathian region – from realistic landscapes and still lifes to complex stylized compositions and abstract works. The exhibition, in particular, presented the canvases of Volodymyr Mykyta, Ivan Shutiev, Ivan Brovdi, Olena Kondratiuk, Vasyl Vovchok, Vasyl Svaliavchyk, Stepan Sholtes, Ivan Didyk, Anton Kovach, Vlad Habda, Zoltan Mychka, Volodymyr Pavlyshyn, pottery of Nataliia Hrabar-Boretska, sculptures created by Bohdan Korzh, Vasyl Sochka, etc.
During the opening of the exhibition, the head of the department of scientific and educational work of the Chernivtsi Art Museum Larysa Kuryshchak noted that Transcarpathian Art School is special, original and bright. "There are certain traditions in the region that develop every year and this exhibition itself is the evidence of how these traditions are kept. Here it is presented not only the works of young masters, but also of venerable ones, thus we can see the full development of the art process in Transcarpathia."
The exposition, which was heold in the Hungarian Miskolc, Debrecen, Budapest, the Slovak city Kosice, and Uzhhorod is supported by the Ministry of Foreign Affairs of Hungary. The exhibition will last in the Chernivtsi Regional Art Museum until August 31.
Text: Nataliia Petervari  Photo: Serhii Derkach