"COLOUR MORNING" OF RIMMA KONAR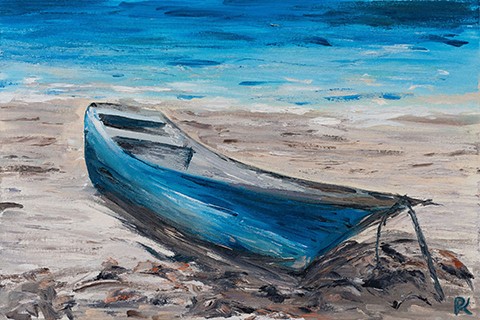 On 14 June 2018, in the cultural and historical centre "Owl Nest" it was opened a personal exhibition of Rimma Konar under the title "Colour Morning".
As the artist herself admits, the name of the exhibition is not accidental: "I really love the morning – this is the beginning of a new day, a new life, a new energy. And there is a little secret: if you read my last name in another direction, it will be morning."
The doctor-mammologist by specialty Rimma Konar took up the brush just two years ago. Although, the basic knowledge has been received since her childhood. "I was drawing only in my childhood at the art school of Zoltan Bakoniia, then there was a big pause. However, the drawing has been mature in me for a long time: I painted sketches and I really wanted and at the same time was afraid to write with oil. And literally in 2017 thanks to my friend I for the first time tried to work with this material and did not stop after it. The oil was very comfortable for me."
The artist tries herself and in other techniques, such as: pencil, watercolour, and pastel.
The exposition includes about four dozen multi-coloured oil paintings: these are fresh sea lanscapes, mysterious female images and floral still lifes. And although a young artist does not have professional skills, she feels colour and volume quite well.
Special attention deserves figurative works which revealed the female nature, and at the same time saved mystery. "I like a woman's body – it's beautiful and worth it to be painted, there is some mystery in it. All my works, even landscapes and still lifes, are associated with people, so often the thought of a person affects the picture itself."
The exhibition "Colour Morning" turned out to be feminine and fragile, like the author herself. The exposition will last until 16 June 2018, inclusive.
Text: Kseniia Shokina
Photo: Nataliia Pavlyk
© Art & Culture Foundation Brovdi Art