COLOURED "COUNTRY" OF OLEKSANDR BABAK IN UZHHOROD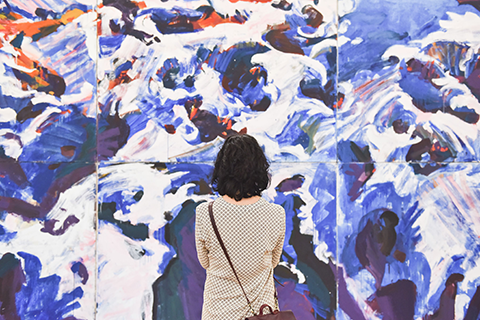 Painting exhibition of the famous Ukrainian artist Oleksandr Babak exploded with colours and emotions on June 14, 2017 in the halls of the Transcarpathian Regional Art Museum named after Y. Bokshai. 
The author presented almost forty works. Some of them are from private collections.
The exhibition "Country" is the author's heritage for the past ten years, a creative retrospective, and overview of a certain segment of the artist's path. "The name of the exhibition was born due to the fact that there are my favourite places on the canvases: Crimea until 2014, Central Ukraine, in particular Poltava, Kaniv, Kyiv, and, of course, beautiful Transcarpathia, where I have many friends, favourite places where I have worked a lot in recent years,"- the author said.
Every visitor is impressed at first sight by the artist's colour palette. Among the exhibited canvases a significant part of works is created on the colours contrast (the series "Crimea. Hurzuf" (2006 - 2011), other part is created on the contrast of two strengths - dark and light ("Sunset" (2016), or on the domination of one shade - feeling (series "Mountain" (2016), "Vilshynky" (2017). Some of the master's works are built like architectural structures with the help of colour - from the bottom to the top, and crowned with completion (the series "Still Life"). Some other works convey the riot of blossoming meadows-trees-flowers ("April" 2006, "Flowers" 2014). The richness of grey shades and refined restraint of colours capture us in the "Wildflowers" (2016) and "Vilshynky village" (2017)-it seems that the artist deliberately restrained the restless running of the hand with the brush. In general, the palette of the master is so deep and sensual that it becomes immediately clear that there are no unnecessary things, all the nuances are not only thought-out and deliberate, but also experienced and passed through the inner rich world. The artist himself admits: "I saw something, it amazed me, I liked it-and I quickly started painting it not to lose that impulse, the nerve that vibrates."
The exhibition of Oleksandr Babak will last in Uzhhorod until June 26, 2017.
Text: Mykhailo Syrokhman  
Photo: Robert Dovhanych