"COLOURS OF TRANSCARPATHIAN ART" PRESENTED IN UZHHOROD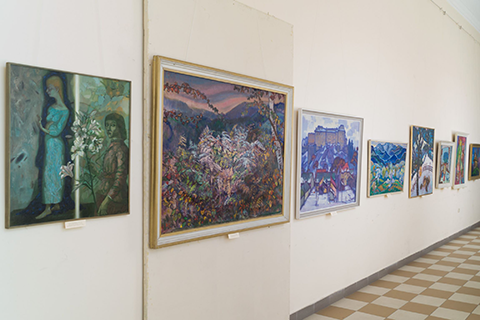 The new exposition of works of the Transcarpathian classics and contemporaries was opened on June 23, 2017 in the Transcarpathian Regional Art Museum named after Yosyp Bokshai. The exhibition titled "Colours of Transcarpathian painting" is timed to the 21st anniversary of the Constitution Day of Ukraine and aims to broadly represent the Transcarpathian school of painting.
At the exhibition it is exhibited three dozen paintings - the work of famous Transcarpathian artists. Among them, mainly, prevailing are thematic works, landscapes, portraits - all those genres, to which the artists of the Silver Land often refer in their work. In addition, there are graphic works, sculptures, as well as exhibits that represent the scientific and research work of the museum. "There is something to see and what to admire," – an art critic Liudmyla Biksei said. - We arranged the exhibition in such a way that museum visitors can get acquainted with the Transcarpathian School of Painting more deeply. For them to know not only Bokshai or Erdeli, but also such powerful artists as Manailo, Kotska, Boretskyi, Kontratovych, and many others. And, accordingly, the stylistics of our artists in this exhibition is just well presented-bright, decorative flowers, courageous and sincere, by which the Transcarpathian artists amazed the public. These works are full of joy and love of life, a feeling of falling in love with native land!"
About the creativity of modern generation of artists in the explication to the exhibition it was written by an art critic Olena Prykhodko. She particularly noted that the artistic experience of senior colleagues has become a reliable guide for the younger generation of artists. "The categorical rejection of imitation and decisive refusal to copy foreign pictorial systems are peculiar to the majority of representatives of the new generation of Transcarpathian artists. The face of modern Transcarpathian painting is based on the work of such talented artists as B. Kuzma, V. Habda, N. Ponomarenko, V. Pavlyshyn, N. Sima-Pavlyshyn and others. They are convincing carriers of positives of the contemporary fine arts of the region," - the art critic said.
Represented at the exhibition are the following authors: Fedir Manailo, Andrii Kotska, Gabriel Gluck, Zoltan Sholtes, Adalbert Boretskyi, Vasyl Habda, Vasyl Svyda, Anton Kashshai, Ernest Kontratovych, Yurii Herts, Volodymyr Mykyta, Pavlo Balla, Ivan Harapko, Yelyzaveta Kremnytska, Mykhailo Romanyshyn, Anton Shepa, Viacheslav Prykhodko, Zoltan Mychka, Ivan Ilko, Ivan Shutiev, Nataliia Sima-Pavlyshyn, Larysa Brovdi, Vladyslav Habda, Nadiia Ponomarenko, Volodymyr Pavlyshyn, Vasyl Skakandii, Ivan Brovdi, Borys Kuzma, Ferenc Erfan, Andrii Synytar, Oleksandr Malysh.
The spectators and art connoisseurs will be able to see the expanded and updated exposition of Transcarpathian art during the summer of 2017.
Text: Nataliia Petervari
Photo: Nataliia Pavlyk
©Reproductions of paintings: Transcarpathian Regional Art Museum named after Y. Bokshai