Collective exhibition of Slovak artists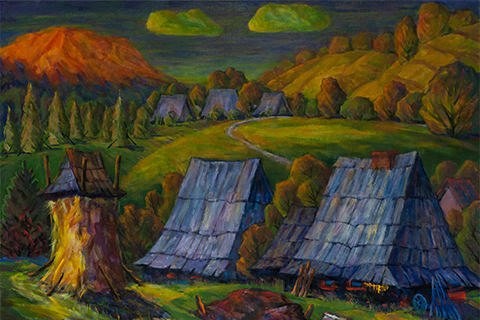 On 16 November 2018, in the Consulate General of the Slovak Republic in Uzhhorod it was opened an exhibition of Transcarpathian artists. In total, there are a half-dozen works in the exposition, among which are works of easel painting, graphics, and sculpture.
The exposition is devoted to three events. Firstly, it was a hundred years ago that the Czechoslovak Republic was formed; secondly, almost five years ago the Society of Slovak artists from Transcarpathia was founded, and now its participants celebrate a peculiar small jubilee and, thirdly, in a row, this exhibition is the thirtieth.
"We have roughly estimated that over the entire period of our activities more than 1000 works have been exhibited by members of the society," said Head of the Society Michael Peter. – Almost half of the exhibitions were held at the Centre of Slovak Culture in Uzhhorod High School No. 4, the rest – in the Transcarpathian Museum of Folk Architecture and Life, and, of course, in the premises of the Consulate General of the Slovak Republic in Uzhhorod". In general, according to the artist, the diplomatic institution is constantly promoting the activities of the Society, so during the opening, Michael Peter expressed his gratitude to the Consul General and to the entire diplomatic corps.
There were presented works of fine arts by Michael Peter (Head of the Society), Taras Tabak, Yurii Tkachyk, Andreia Pavuk, Mykhailo Belen, Vasyl Sochka, Vladyslav Hanzel, and Eduard Prykhodko.
An Honoured Artist of Ukraine, sculptor, graphic artist Mykhailo Belen, in particular, presented three series of graphic works: "Outstanding figures in the field of science and culture of the Carpathian Region", "The Life Path of the Classics of European Pedagogical Science A. Dukhnovych" and "The life path of the genius of Ukraine and the whole world, the poet and artist Taras Shevchenko". According to experts, these series are unique in that M. Belen is actually, for the first time in Transcarpathia illustrated the life path of T. Shevchenko and A. Dukhnovych in graphics.
The artist, a master of applied and decorative arts Vasyl Sochka presented at the exhibition refined and philosophical for inner essence sculptures "Spiral To Eternity" and "Leaf Of Life".The sensation of love in the nature of the native land is caused by the landscapes of Michael Peter "Night Is Falling In The Mountains" and "The Last Rays Of The Sun"; light, simple, and at the same time full of deep sensuality of the work of Vladyslav Hanzel "Sun In The Winter Forest" and "Rest In The Kisii Tract". In general, all works deserve the attention of viewers, guests of a diplomatic institution.
The exhibition, which takes place under the patronage of the Consulate General of the Slovak Republic in Uzhhorod, will last until the end of the year.