A collective exhibition of the Transcarpathian artists at "Uzhhorod" gallery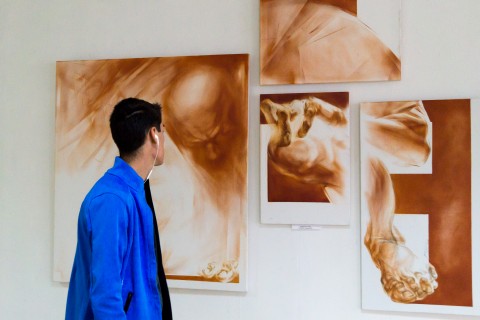 On 11October 2017, it was opened a traditional regional exhibition of works of Transcarpathian artists on the occasion of the Artist's Day at the "Uzhhorod" gallery. Authors from all over the region presented their graphics and works of decorative and applied arts. The diversity of styles, technique and texture is really impressive.
Here are samples of ceramics, carvings, a lot of watercolours, pastels, mixed and author's techniques.
The famous Transcarpathian artist Odarka Dolhosh during the opening of the exhibition noticed: "Today we see that Transcarpathia lives with painting, filled with colouring of the region. But, at the same time, we have something to show to graphic artists, masters of decorative and applied arts. This exhibition is multifaceted, interesting and diverse. It certainly stands out against a background of all others."
People's Artist of Ukraine Volodymyr Mykyta stressed that his colleagues moved forward, and almost every author has something new in his works: "Earlier, one could see the same motives, and now the authors are in search – this is the very creativity", the artist said.
Among over 80 exhibits one can find works not only of the actual members of the Transcarpathian organization of the National Union of Artists of Ukraine, but also the works by young authors who managed to prove themselves well. In particular, the works of L. Korzh-Radko, O. Dolhosh, L. Borshosh-Litun, M. Peter, O. Lypchei, L. Savko, Y. Kopanskyi, I. Demian, V. Tymko, Y. Miravchyk-Rakovych, E. Levadska, O. Alfeddi, V. Pal, I. Klisa, L. Slobodska, Y. Hahel, V. Kohutych, V. Filesh, O. Kofel, Y. Dulenko, T. Ivanytska, A. Moshkola, K. Lyvrints, V. Manailo-Prykhodko, S. Zavadiak, O. Kondratiuk, I. Didyk, V. Kuzma, V. Myhovych, R. Pylyp, T. Danylych, M. Khodanych, P. Khodanych, N. Popova, Y. Yehorova-Rohova, O. Sopilniak, M. Rosul, V. Sochka, V. Kinch, V. Vinkovskyi, M. Mykhailiuk are presented here.
According to the results of the exhibition, which will last until the end of the month, the candidates for the Prize named after Bokshai and Erdeli will be determined.


Text: Kseniia Shokina
Photo: Nataliia Pavlyk