KYIV EXHIBITION OF ARTISTIC DIDYK-VOITOVYCH FAMILY "CHERRY BLOSSOM"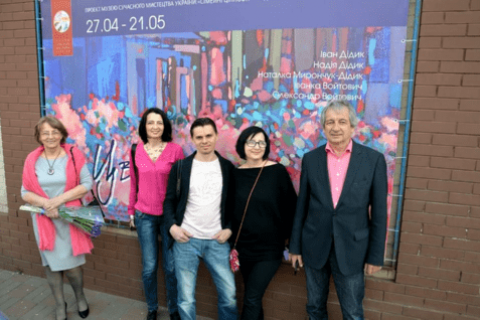 From April, 27 to May, 21 2017 Kyiv Museum of Contemporary Art of Ukraine under the project "Family Values - Family Relations" demonstrates the exhibition of the Didyk-Voitovych family called "Cherry blossom", which connected Uzhhorod and Lviv artists.
Participants of the action - Honoured Artist of Ukraine Ivan Didyk, his wife Nadiia Didyk, daughter Nataliia Myronchuk-Didyk, daughter Ivanka Voitovych with her husband Oleksandr. Every artist of this talented family goes his/her own creative way. Everyone has his/her own way, favourite technique, set of topics, and subjects.
In recent years, mostly pastel works of Ivan Didyk (he presented 14 works in all) acquire more decorative and interesting compositional variation. The artist delicately feels colour combinations, exquisitely emphasizes the plane with impregnations and nuances, creating a precious colour sound. From time to time, the artist returns to landscapes, cityscapes, monuments of architecture. At the exhibition there are Uzhhorod motives with temples.
Nadiia Didyk works in a different manner. Her work, as a rule, is more constructive, she arranges the plane in several colours, sometimes her works flash with fautistic contrasts. The artist likes chamber plots - decorative still-lifes, made with acrylic, prevail at the exhibition.
Nataliia Myronchuk-Didyk works with oil and acrylic paints, willingly resorts to pastels, as evidenced by the presented decorative compositions in all mentioned techniques.
Ivanka Voitovych's still-lifes have a unique expressive and decorative character.
The artist adheres to the style and themes in the same way as her husband Oleksandr Voitovych, who remains faithful to beautiful ladies, impeccably presented in a graphically picturesque manner - inaccessible, bored, erotic, and defiant.
All participants of the exhibition presented at least one work, which reflects the fascination with cherry blossom in Uzhhorod, in the end, this prompted the choice of the name of the exhibition.
The exhibition opening was visited by the representatives of the Transcarpathian community in Kyiv, local art critics.

Text: Mykhailo Syrokhman
Photos are provided by the Didyk-Voitovych family