"Rooms" by Nata Popova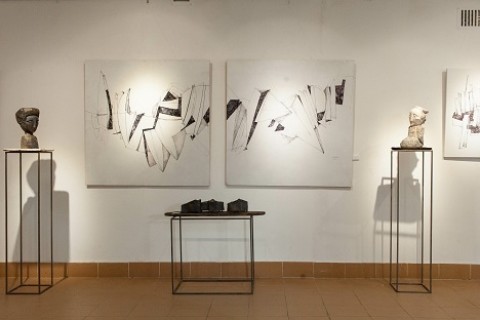 On 22 March 2019, in the gallery "Uzhhorod" it was presented the graphic art, photography, and sculpture – an incredible wealth of forms and images by known Transcarpathian artist Nata Popova. Mostly she presented works performed over the last few years.
There are about 40 works in the exposition. Already at the entrance to the gallery, there is a series of colour photographs, from which, as the author says, the very name of the exhibition – "Rooms". Over this project, Nata worked several years ago and now presented its part. "The project was associated with certain characters, and today's exhibition is a kind of continuation of it. My room, my vision, that is, the space in different manifestations – both virtual and physical," the artist noted.
The graphics are represented by the series "Archive": by reviewing the old sheets of paper, the author had such an idea – to write works that, in fact, both the texture and the image represent the idea of the archive.
A special place in the exhibition is ceramics – each work is eloquent, emotional, makes the viewer stop and think, recognize the emotion, reveal the intention of the author. "All these works are united by material, but each work is a definite story. Each has its own idea, basically, these are certain situations, and this is what inspired… Perhaps a certain conversation, music, cinema, literature, character, certain situations, which are connected with human emotions," – Nata Popova says.
The head of the Transcarpathian organization of the National Union of Artists of Ukraine Borys Kuzma at the opening of the exhibition noticed: "There is an opportunity to be at the opening of the exhibition of a very talented artist because everything that she produces is a real achievement. Nata Popova creates a certain atmosphere – mysterious, full of secrets and non-randomness. I would like to highlight her works. Just take a look: each photo – as a spectacle, which is aimed at a specific topic, one can stay for a long time, consider, think, especially about what has passed."
Art historian Oksana Havrosh, looking through the exhibition, recalled Picasso's phrase, he is not interested in artists who are looking for, but interesting are those who found. "The same I want to say about Nata Popova. She is an incredible artist! And the most important thing for me is that she is interested in the image, she plunges into it, decomposes it into various components and thus reveals it. "
The exhibition of Nata Popova's "Rooms" will last until 3 April 2019.
Photo: Nataliia Pavlyk
© Art @ Culture Foundation Brovdi Art