RETROSPECTIVE EXHIBITION OF YOSYP BABYNETS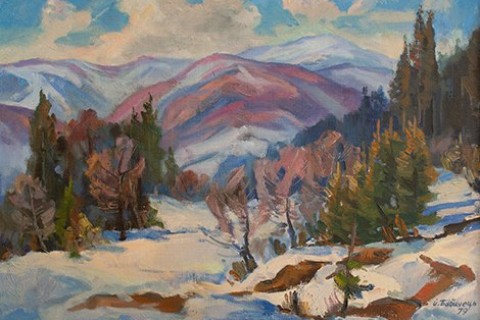 On 8 February 2019 in the gallery "Uzhhorod" the Honoured artist of Ukraine, a Member of the National Union of Artists of Ukraine Yosyp Babynets presented his creativity to art admirers. The exhibition is timed to the 85th anniversary of the artist, therefore, it presents the selected works of the artist, written throughout his creative path.
Yosyp Babynets was born on 8 February 1934 in Zarichovo village, Perechyn region. In 1953, he graduated from the Uzhhorod School of Applied Arts, and in 1967 – the Leningrad Institute of Painting, Sculpture and Architecture named after I. Repin. Since 1970 – participant of regional, all-Ukrainian and foreign exhibitions. In 2008, the artist was awarded the Regional Prize named after Yosyp Bokshai and Adalbert Erdeli in the field of fine arts and decorative and applied art.
On the occasion of the anniversary, Yosyp Babynets presented in the gallery "Uzhhorod" about four dozen works, among which landscapes, rural and city landscapes, still lifes predominate. In fact, according to the artist, there is only a fragment of that enormous creative work, written for long and graceful years of life. Many works have long been stored in museum and private collections in Ukraine, Slovakia, Hungary, Romania, Italy, France, Germany, etc.
"In Transcarpathian artists, the theme of landscapes is dominant, and I am not an exception to the rule," the author himself said during the exhibition presentation. – I am a landscape painter from nature, I ride the places where paintings are written. For each picture, I will say not only the area in which it is written, but I will even show you the exact place. I really love Rakhiv, Volovets, Tyachiv regions – the Uzhotskyi pass and the ridge, but in general, everything is a favourite in Transcarpathia, wherever you go, you can draw everywhere!"
The Exhibition of Yosyp Babynets in the galley "Uzhhorod" will last until 18 February 2019.
Photo: Nataliia Pavlyk
© Art & Culture Foundation Brovdi Art