"Impression" by Vasyl Kohutych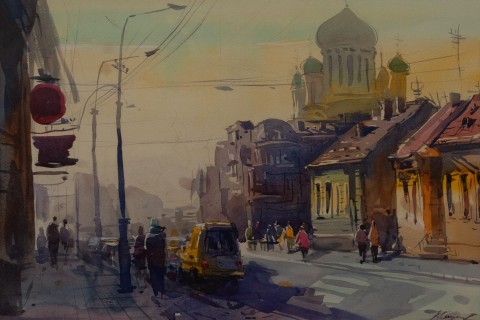 On 3 June 2019 in the Transcarpathian Museum of Folk Architecture and Life, it was presented the watercolour works of Vasyl Kohutych, united by the title "Impression".
The exposition consists of 30 works made in watercolour, – Vasyl Kohutych created them for several years, and therefore the exhibition demonstrates the author's creativity in a chronological section – from 2013 to 2019. The author explains that in the watercolour technique, he feels very comfortable; therefore, he has a special love for it.
Among the presented works, there are three portraits and self-portrait, although cityscapes predominate (streets, courtyards, and embankments of Uzhhorod, Lviv, Odesa, and Budapest). As the artist himself says, he is very fond of Uzhhorod, and therefore often depicts the picturesque and quiet corners of the city.
Vasyl Kohutych's creativity was highly appreciated by art historians and colleagues. Thus, in particular, during the opening of the exhibition, People's artist Volodymyr Mykyta noted: "He became a wonderful graphic artist and created fantastic contemporary watercolour works. Enjoy it! He thoroughly comes to the technical options, not to mention the soul of his works! He creates. He does not copy but create: each work has its own approach, its own purpose, and its own expression. "
The exhibition will last until 13 June 2019.
Text: Kseniia Shokina
Photo: Nataliia Pavlyk
© Art & Culture Foundation Brovdi Art