Exhibition of Ihor Lutsenko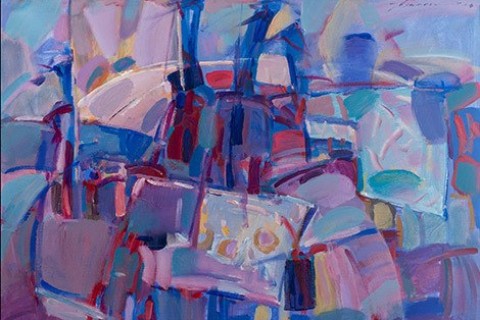 On 5 October 2018, at the General Consulate of the Slovak Republic in Uzhhorod, it was opened a personal exhibition of Transcarpathian artist Ihor Lutsenko. The exhibition is supported by the Consul General of Slovakia Miroslav Mojzita.
Ihor Lutsenko was born in Dilove village in Transcarpathia. He received his professional education at Uzhhorod School of Applied Arts and Lviv Academy of Arts. A PhD. in History of Arts, Associate Professor of the Department of Drawing of the Transcarpathian Academy of Arts. Laureate of the Regional Prize named after Y. Bokshai and A. Erdeli, a participant in numerous exhibitions in Ukraine and abroad.
Ihor presented his works for all the visitors of the diplomatic institution. There were only 15 works of the artist, taking into account the environment of the consulate. The paintings were created in different years, and thus the artist wanted to present a certain retrospective of his work.
According to the author himself, the exhibition was not to be a deep conceptual idea. It is light, chamber and aimed to present his creativity, to introduce the artist to the viewers.
Miroslav Mojzita, Consul General of the Slovak Republic in Uzhhorod, congratulated the artist on the opening of the exhibition. "We will be very happy if all the guests of our Consulate see these wonderful canvases," he noted.
Attila Kopryva, a painter, art critic told at the exhibition opening that he had long been acquainted with Ihor Lutsenko, watching his creativity and art researches. Together they were engaged in teaching activities. As to the presented exposition, the art critic noted that "...Ihor Lutsenko's approach to the creation of compositions, the colour scheme is not similar to any Transcarpathian artist. Still, he draws from our traditions a lot, because we see here the themes of musicians, folk motifs that inspire him and he depicts them in his own way. This is Ihor Lutsenko, this is his face, which we have the honour to see here."
The exhibition of Ihor Lutsenko will last for about three weeks.
Photo: Nataliia Pavlyk
© Art & Culture Foundation Brovdi Art