ART EXHIBITION DEVOTED TO THE VALENTINE'S DAY IN UZHHOROD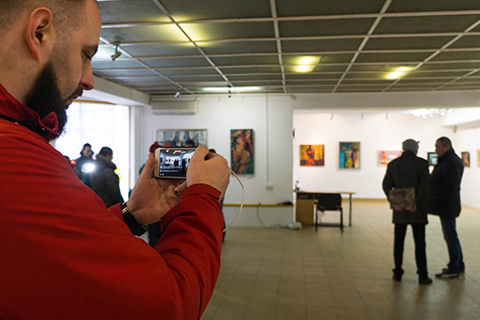 On 13 February 2017 the exhibition devoted to the St. Valentine's Day launched at the "Uzhhorod" gallery. Light, but not stodgy exposition of about 40 paintings, demonstrated a great level of works and good start of the exhibition year. The collection of works looked natural and fresh. Quite free subjects were perceived more natural and direct than a deliberate search for love theme.
The traditional subject of the Transcarpathian landscape was represented by Yosyp Babynets, to a certain extent – by Petro Sholtes and completely modified – by Yuliia Yehorova and Yurii Shelevytskyi. The same traditional genre of still life was presented by the spring compositions of Lesia Pryimych, Tetiana Sopilniak, exquisite colour combinations of Oleksandr Hromovyi, mysterious tone of Ivan Didyk. The subject of nude art, habitually classic for Olena Kondratiuk, was quite unexpectedly and loudly demonstrated by Taras Usyk and Vasyl Vovchok. The figurative compositions were offered by Yurii Bodnar and Oleksii Fedor.
As always the main wall of the gallery pleased the eyes of the audience. There from the left to the right one can see strongly contrasting, this time black and white Vlad Habda, two exquisitely nuanced works of Volodymyr Pavlyshyn, richly orchestral composition of Gabriel Buletsa. The works of Mykola Shete revealed a new style of the author by their unusualness. The works of Yuliia Ukrainets and Anhelina Hafynets were also well exhibited.
Graphic art was represented more decently: academic pencil of Vasyl Kohutych depicted children's heads, consistent follower of Bedzir Ivan Zhupan demonstrated tonal trees in the same Bedzir's technique, Viktor Andrianov pleased with decoratively spectacular formats with the free rhythm of lines and colour splashes.


Text: Mykhailol Syrokhman
Photo: Oksana Yurchenko