"Colour Chord" by Yana Mehei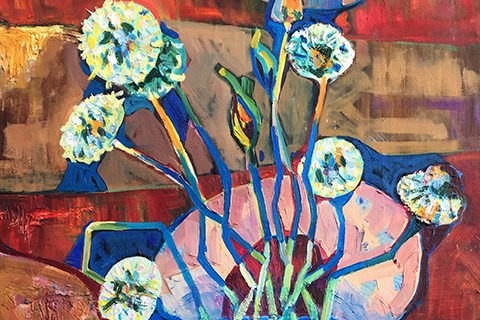 On 29 October 2018, in the Mukachevo restaurant One Space, it was opened a personal exhibition of the young Transcarpathian artist Yana Mahei. The artist presented a small selection of works performed during the last time.
Yana Mahei was born in 1996, in Dubove village, Tiachevo district, Transcarpathia. She studied at the Transcarpathian Academy of Arts, graduated in 2017, and became a teacher of the fine arts at the art school of her native village. A young artist works in various genres. She is a participant in numerous collective regional and regional exhibitions; during the year (at the end of 2017 and in 2018) she participated in All-Ukrainian expositions three times.
In One Space, Yana presented her first solo exhibition entitled "Colour Chord". The exhibition presents 8 works, mainly landscapes and still lifes, decorative works made in oil.
All presented canvases are made from real life or on plein airs: "I want to show in my works the beauty of painting, the surrounding world, the harmony of colour. Works are decorative. I do not want to convey the real world. I portray the way I feel, my impressions of what I have seen. I hope you also get a little warmth and a bright mood from my works," the artist said.
The exhibition will last until 29 November. Thus everyone has enough time to get acquainted with the new artist of Transcarpathia.
© Art & Culture Foundation Brovdi Art