"Genesis" of Mykhailo Deyak at the Lviv National Opera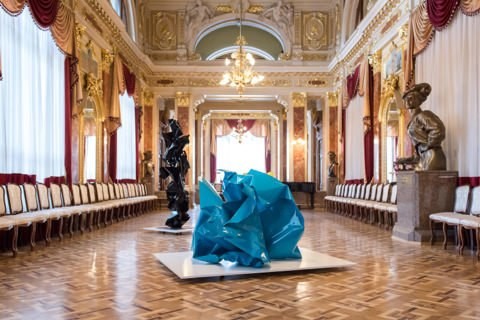 On 27 June 2018 in the mirror hall of the National Academic Opera and Ballet Theatre named after S. Krushelnytska (Lviv), it was presented the project "Genesis" of the Transcarpathian artist Mykhailo Deyak. The exhibition was presented as part of the premiere of the opera "Don Giovanni" by Mozart and the LvivMozArt festival.
Mykhailo Deyak has been working on a series of abstract sculptures since 2016 and works for the project "Genesis" the artist created during the year. During this time, they were presented in New York, Kyiv, Uzhhorod and other cities, but for the Lviv audience, these works are demonstrated for the first time.
Five art objects are made of stainless steel in various colours and placed in the mirror hall of the opera. Mykhailo Deyak says: "We deliberately placed the exposition precisely in this space. The combination of the classical interior of the theatre and such cosmic forms makes the project eclectic. The improvised objects are in contact with the viewer through the prism of his own thoughts. They are in a frozen state, time moves and stops in them, they seem to be in conflict with theatre environment, they are hostile to it, but this is at first glance because in reality, they are the cause for reflection."
The symbiosis of the room and sculptures creates impression of motion stopped in space, and the contrasts and the dynamics of objects will make it possible to read the works from different directions in a different way.
"I do not put a specific idea in this work because I want to encourage the person to think: let the viewer look for himself in space. This project is designed for the visitor's intelligence, makes him think over the meaning. It is in this way there is a dialogue between me and the viewer," the author explains.
The project "Genesis" of Mykhailo Deyak will last until 27 July 2018.
Text: Kseniia Shokina
Photos provided by Mykhailo Deyak
© Art & Culture Foundation Brovdi Art