Jubilee exhibition of Emma Levadska in Uzhhorod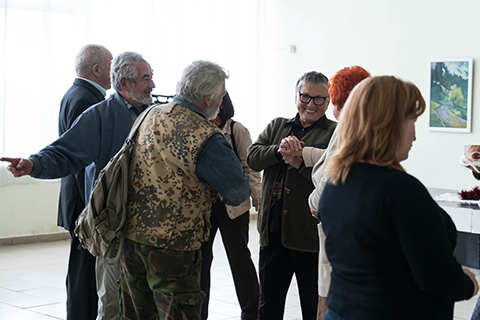 On 6 October 2017 in the premises of the Transcarpathian Museum of Folk Architecture and Life, it was opened the jubilee retrospective exhibition of the member of the National Union of Artists of Ukraine Emma Levadska.
A painter, graphic artist, master of decorative and applied arts, pedagogue – everything about Emma Levadska, who in her 80s radiates warmth, positive attitude and incredible energy! "I am what I am, and I want to be perceived this way," the master said about her creativity.
The exhibition includes 25 works executed during 2009-2017. "Represented are paintings and embroidery – this is what I make with children. Painting fascinates me, it requires a lot of attention, consistency, development, and embroidery allows me to relax, immerse in tradition. I became a member of the Union of Artists, and this is a big responsibility."
As the author admits, her husband had a great influence on her as an artist, he always supported her, he himself was an example for her. "After my husband's death, I hid in art – it's like a medicine," Emma Levadska adds.
The painting shows the viewers the magnificent landscapes of Transcarpathian Rakhiv, Uzhhorod, and Velykyi Bereznyi regions. These are the chamber, lyrical paintings in which the Kyiv School of Painting can be traced.
This day Emma Levadska has an important dialogue with the audience. She says, she wants to hear not only compliments but also criticism, to develop herself further.
The personal exhibition of Emma Levadska's works will continue until 22 October 2017.
Text: Kseniia Shokina
Photo: Nataliia Pavlyk