Personal exhibition of Dmytro Mitsovda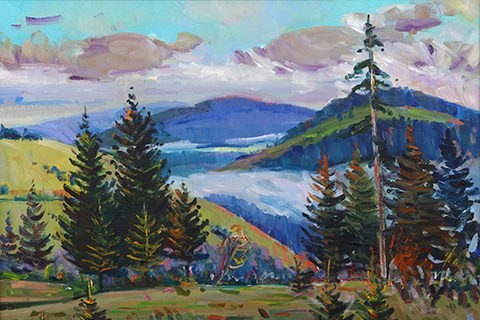 On 11 August 2018, in the hall of Uzhhorod sports complex "Youth", it was opened the first personal exhibition of Dmytro Mitsovda. The artist presented almost fifty works performed during the last two years (2017 and 2018).
Dmytro Mitsovda was born on 12 August 1959 in Zavosyno village, Velykyi Bereznyi district, Transcarpathia. While studying at school, he attended an art group of Zoltan Bakonia. He was going to enter art school, but fate said otherwise. As a result, the artist returned to the dream of his youth only in 2016. Moreover, the desire came spontaneously, but it was supported by his relatives, friends, artists quite in time. Thus, during two years of hard work, an artist created more than a hundred paintings and some of them are presented at the exhibition.
The artist says that he started with copying paintings: "I do not have a professional art education, so I had to start with something," said Dmytro Mitsovda about how he started drawing. "I think there is nothing wrong with it, students also learn to copy the classics. The main thing is not to copy the style and change the format. I examined the works of my favourite masters – Bokshai, Sholtes, Kashshai, scrupulously studied every painting, every stroke, analysed every centimetre, and tried myself. Over time, I began adding my own elements, creating my own works. And now I plan to demonstrate them. I'm awfully worried but I believe there are people who'll like my works."
The exposition is full of landscapes, mountain and plain landscapes, rural and city landscapes, still lifes. Separate canvases depict the ancient Mukachevo Castle, which thanks to its bold colour palette amazes with its grandeur and magnificence. In general, it is obvious that the artist is fascinated by the Transcarpathian school of painting, respectively, that rich colour palette peculiar to the classics moved to the works of Dmytro Mitsovda. He sincerely and generously adds warm tones, ochre, brown, red-yellow, which generally make works positive. "Maybe sometimes I use a lot of those bright colours, but I'm still trying, I'm learning," says the artist. "I try to select colours, mix the paints well because it will affect the strokes. I paint only with oil on canvas, as it's easier for me to convey my feelings and emotions in this technique."
One can get acquainted with the works of the artist-amateur Dmytro Mitsovda in the sports complex "Youth" for ten days.
Text: Nataliia Petervari
Photo: Nataliia Pavlyk
© Art & Culture Foundation Brovdi Art