"FOUR SEASONS" BY STEPAN SHOLTES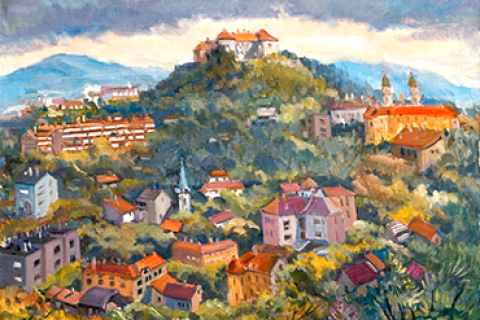 On 14 November 2017, in the hall-atrium of the Transcarpathian Regional State Administration, it was opened a presentation exhibition of paintings by the architect and artist Stepan Sholtes on the occasion of awarding the title of People's Artist of Ukraine.
The exposition includes 18 works – Transcarpathian landscapes, pictures of the sacral architecture of the region, the Uzhhorod Castle. These are all oil works, but they are united by the theme "Four Seasons".  As the artist noted at the exhibition opening, "... there is no bad weather or bad season –all seasons are beautiful in their own way."
According to Stepan Sholtes, art is made for people, so the impressions of ordinary people are very important to him. The exhibition presents the latest works of the artist – in some, as he himself admits, even the paints are still wet.
As the author himself notes, he likes to portray buildings, houses, temples most of all. Obviously, it is because Stepan Zoltanovych is not only an artist but also an architect. "I really like to paint buildings, especially wooden churches," the artist said at the exhibition opening. They often find contact with the nearby mountains, hills, rivers, banks, and outskirts of the forest – this is what I really like to mention. Sometimes artists are not able to depict wooden churches, but I like to paint it because it's close to a person ".
The artist Vladyslav Hansel, who was present at the exhibition, noticed: "Stepan Sholtes sees the composition, knows how to paint a good architectural object and does it not conventionally, but professionally. Stepan's creativity is colourful – you will not confuse him with anyone else, he feels colour, mood, he has nothing superfluous in his works."
It is possible to see the exhibition until the end of November in the atrium of Transcarpathian Regional State Administration.


Text: Kseniia Shokina
Photo: Nataliia Pavlyk