"TRANSPLANTATION" EXHIBITION BY GABRIEL BULETSA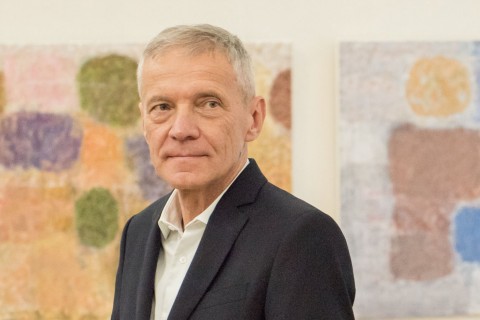 On 3 November 2017 in the Transcarpathian Regional Art Museum named after. Y. Bokshai it was held a personal exhibition of THE member of the Union of Artists of Ukraine Gabriel Buletsa. The exposition is called "Transplantation".
This time the artist presented 52 paintings. All works created during this year and are presented to the public for the first time. The technique used by the author is acrylic on canvas. "There are 10 paintings from the previous "period" that preceded this theme, while others –devoted exclusively to one concept – to the idea of transplantation. Not medical, but exclusively spiritual," said the author.
The subject of rebirth is rather close to the artist. He was a biologist and, for a long time, he studied histology and genetics. "I saw human cells, their colour, so it was not difficult for me to imagine them when painting. My paintings are some philosophical reflections on the proposed theme. I would call it artistic alchemy," the artist noted.
According to the author, every art must carry into the society a certain message. His idea was the possibility of physical and spiritual transplantation as a phenomenon in the world. "Thanks to this a lot of things become possible", summed up the artist.
The exhibition "Transplantation" once again proved that Gabriel Buletsa's paintings, as noted by art historians, traditionally do not lend themselves to a genre or other definition. "Everyone can paint a portrait or a landscape, but not everyone is able to convey an important idea to people through their pictures. I would like to tell and show people that unknown things in the world, " the Transcarpathian artist said.
"A very harmonious, balanced and complicated exposition in its own way," said Taras Tabak, a member of the Association of Art Workers of Ukraine. - And the most interesting things in art are not simple. The exhibition corresponds to the inner world of the author and the problems that he feels. From the first to the last minute, we are in one condition - and he clearly conveys it. He raises the topic of a small man in a total world that loses a cultural platform. This is an exhibition of a kind of little Transcarpathian prince Saint-Exupéry."
The exhibition "Transplantation" will be held at the Transcarpathian Regional Museum of Art Y. Bokshai until 16 November 2017.


Text: Denys Fazekash
Photo: Robert Dovganych