Exposition "Aroma of pastel" in the art salon "ART-PRO"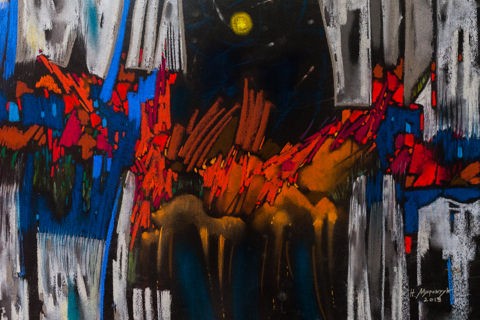 On 5 July 2018, in Uzhhorod art salon "ART-PRO", it was opened an art project "Aroma of pastels 2018". The exhibition presents selected works of Transcarpathian artists created in pastel.
Participants of the exhibition are Ivan Didyk, Mykola Dzys-Voinarovskyi, Nataliia Sima, Nataliia Myronchuk-Didyk and Ivan Klisa. Each of the artists presented five works. As the head of the art salon "ART-PRO" Volodymyr Norba noted, he was fathering the idea to present the works made in the very technique for a long time and at last, it was implemented.
Among the presented works, there are landscapes of the Carpathians, rural and urban landscapes, still lifes, and portraits. A quiet starry night, a cosy courtyard or the majestic Mukachevo Castle – all the works impress primarily by the emotional component, each of them conveys the mood of the author, his feelings and emotions at the time when he picked up a paper and pastel ...
The Honoured Artist of Ukraine Ivan Didyk, in particular, noted that he chose the works of different periods for the exhibition. "Each technique has its own peculiarity, pastel is not an exception," the author says. "In my time, I painted a lot in pastel. It is not expensive and almost has no smell. Most importantly, it is stored very well. I made this discovery once in Paris. I looked at such pictures at the museum and realized that pastel retains colours very well, it practically does not turn black, unlike oil. In addition, pastel has a wide range of use. If you can use watercolour only with a brush, then you can use pastel even with a finger. That is, you have a contact with your picture. Thus, you can better depict your ideas."
The exposition "Aroma of pastel" in the art salon "ART-PRO" will last until 19 July.
Text: Nataliia Petervari, Denys Fazekash
Photo: Nataliia Pavlyk
© Art & Culture Foundation Brovdi Art