"Some Sunshine On A Cold Winter Day" by Andreia Pavuk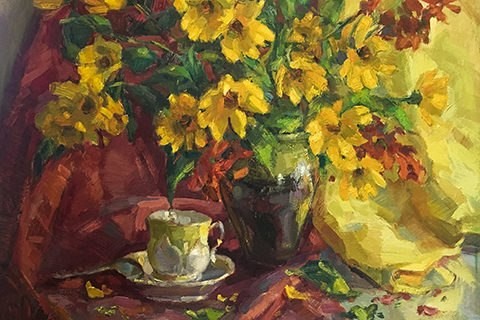 On 15 January 2019 in the Consulate General of the Slovak Republic in Uzhhorod, it was opened a personal exhibition of the Transcarpathian artist, ceramist, member of the Transcarpathian organization of the National Union of Artists of Ukraine and the Society of Slovak Artists Andreia Pavuk.
The exhibition, presented to the art admires, is a kind of cut of the creative searches and experiments of the author in painting over the past ten years. Out of the thirteen works selected for the exhibition, everything is an oil painting on canvas and one graphics is made in pastel.
The favourite genre of the artist is the Carpathian landscape, written in different seasons. In the exposition, there are no winter landscapes, because we can admire them outside the window. The artist herself said that the main idea of organizing the exhibition was the desire to add a little heat in the middle of frost. Therefore, she chose the appropriate name – "Some Sunshine On A Cold Winter Day".
With paintings, the viewer opens native landscapes depicted in summer and early autumn. The feeling of the sun add a few still lifes with wildflowers. The colour palette completely transmits colourfulness of nature. Styles and techniques of performance are varied: in some works, expression prevails, others resemble a light, transparent watercolour, and still others with notes of abstraction.
The head of the Society of Slovak artists, Michael Peter, in his welcoming speech at the opening ceremony, has already noted the good tradition of presentations of artists' works in the walls of the diplomatic institution, and expressed his gratitude to the Consul General of the Slovak Republic in Uzhhorod for the full assistance in organizing artistic events.
Text: Liudmyla Kozlovska
Photos provided by the organizers.
© Art & Culture Foundation Brovdi Art