Exhibition of Volodymyr Hurin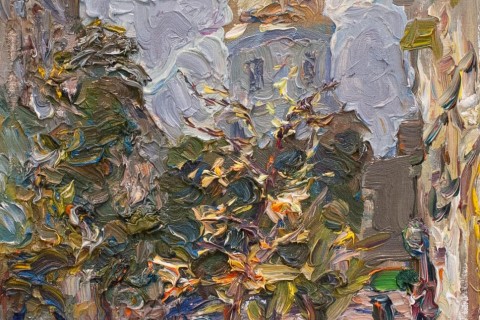 On 22 May 2019, in the art centre "ILKO Gallery" it was opened an exhibition of painting by Volodymyr Hurin. The basis of the exposition was the twelve works of the artist, performed recently in the technique of assemblage, each of which symbolizes a separate prelude to the piano.
The author of musical works, which at one time inspired the artist, and now sounds smoothly on the opening days, is a young composer, a graduate of Uzhhorod Music College named after D. Zador, and now the post-graduate student of Stankovych at the Kyiv Conservatory – Volodymyr Mashika.
The music of the young maestro is full of spirituality. As the composer himself notes, "in the collection itself, there are no program names to give more freedom to the performer for his own reading. The only landmark from me as an author is the reliance on sacredness."
Works of Volodymyr Mashika performed the daughter of the artist, a young pianist, winner of the national and international contests of piano music Mariia Hurina. In the performance of Mariia, the music sounded like a prayer. And it inspired the artist Volodymyr Hurin to create visual images that in colour transmit the rhythm of the sound of miniature plays:
"Dominus Lord,
Resonare fibris…
Do-re-mi-fa-sol-la-si. There were seven notes.
To witness the miracles of your deeds, Lord.
Resonare fibris – all the fibres of the soul".
In addition, it is worth mentioning that Volodymyr Hurin – the son of the national artist of Ukraine Vasyl Hurin, whose parental guidance was to profess sincerity in his creativity.
The exhibition also presents the works of the artist from the series "Kyiv Motifs" (1990 – 2003), "Herbarium Of Feelings" (1992 – 1999); and "Sunflowers" (2005). Works full of lyricism, performed both in the genres of traditional easel oil painting – landscape, still life, and in the author's technique – assemblage.
The exhibition will last until 16 June 2019.
Text: Liudmyla Kozlovska
Photo: Nataliia Pavlyk
© Art & Culture Foundation Brovdi Art